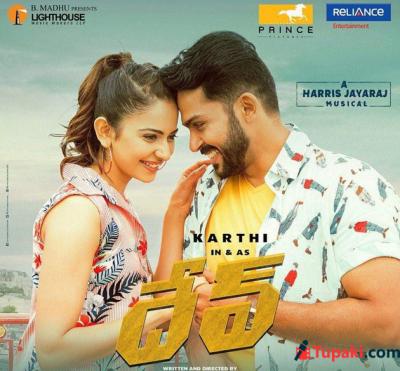 Movie Review: DEV
Rating: 1.5/5
Cast: Karthi, Rakul Preet Singh, Ramya Krishna, Prakash Raj, Vignesh Kanth, Amrutha and Others.
Music: Harris Jayaraj
Cinematography: Velraj
Producer: Lakshman Kumar
Story-Screenplay-Direction: Rajath Ravi Shankar
Release Date: 14th February 2019
Karthi is one of the very few Tamil Heroes to enjoy a good fan following in Telugu States. Films such as 'Yuganiki Okkadu', 'Awara' and 'Naa Peru Shiva' fetched him good recognition. After 'Khakee', Karthi and Rakul teamed up again for 'Dev'. Let's see if this romantic entertainer hit the bull's eye...
Synopsis:
Dev (Karthi) who belongs to a respectable family isn't interested in doing 10 AM to 5 PM Job. He is fun loving, passionate about adventurous stuff and believes in the ideology that real happiness lies in following one's heart. Such a person falls in love with a Business Woman Meghana (Rakul Preet Singh) who is independent, selfish and have no time for love. After a point, Even Meghana gets attracted to Dev. In what way did their bonding affect the chosen paths forms rest of the tale!
Performances:
Karthi looks stylish and maintained the right kind of attitude for the characterisation. However, The role of the protagonist wasn't etched properly by the Director and it lacks the right direction. All the efforts put in by Karthi gone wasted.
Rakul Preet Singh did a glamorous role but her make-up could have been better in many sequences. Even the characterization of female lead isn't good enough. Nobody knows why Prakash Raj and Ramya Krishna accepted such roles. Hero's Friend Vignesh Kanth could only manage irritating audience. Nothing much to say about rest of the cast.
Pros:
Music
Cinematography
Production Values
Cons:
Story
Screenplay
Direction
Technicalities:
'Dev' is technically sound. Harris Jayaraj composed to his full potential after a long gap. He tried his best to bring the required feel with his Songs and Background Score. Cinematography by Velraj is pleasing to watch. The visuals looked rich and high standards were maintained throughout. Production Values are grand. Inspite of having all the resources in abundance, Director Rajath Ravi Shankar failed to capitalise on them in any way. Neither the Subject nor the Treatment has got any speciality. 'Dev' will be a forgettable film for everyone associated with it.
Analysis:
First things first, 'Dev' starring Karthi and Rakul Preet Singh have few positives...A Lovable Lead Pair who share a crackling chemistry, Refreshing Musical Score, Eye-catching Camera Work & Rich Production Values. This flick disappoints in rest of the aspects, be it Story, Screenplay and Direction. Poor Characterisations of Lead Pair, A Love Story without a strong conflict point, Aimless Narration & Lethargic Pace make it a boring flick altogether.
In 'Dev', Protagonist is a youth who prefers adventurous life style rather than boring 10 am to 5 pm Job. Such an introduction gives an impression that Hero would be doing many adventures during the course of the film. The real surprise for the audience is the fact that there are no thrilling moments in the film. In 'Dev', Heroine opts for separation as Hero shifts focus to work instead of thinking about herself all the time. How convincing is this conflict point?
The film runs on a flat note from start to until before the last 20 minutes, without any twists and turns. Music Composer and Cameraman tried their best to make audience believe they are watching a romantic entertainer. Director failed to effectively establish why Hero is madly in love with Heroine & how Heroine got attracted to Hero. None of romantic sequences struck a right chord with the audience.
First Half of 'Dev' is so boring due to lack of any high points. The actual story begins in Second Half but the treatment looks unconvincing. Lack of Feel-Good Moments is the biggest drawback of 'Dev'. None of the roles, including that of Prakash Raj and Ramya Krishna, were etched properly. Dubbing for the roles of Supporting Actors is unbearable to say the least. Overall, 'Dev' ends on a disappointing note.
Bottom Line: Dev - Not Worth Watching!