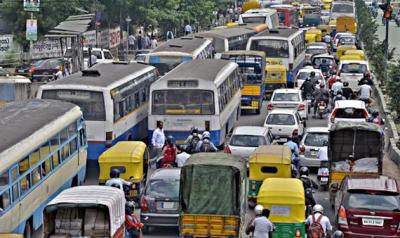 Karnataka Transport Minister DC Thammanna announced the decision of State Government to impose a ban on 15-Year-Old Vehicles in Bengaluru. 'Traffic Issues kept increasing day-by-day. We need to impose restrictions on the movements of vehicles to handle heavy traffic. An environment prompting more number of people to prefer public transportation has to be created. While the population of Bengaluru is 1 crore, There are 1 crore vehicles in the city. In addition, Lakhs of Vehicles from other states come and go. As per the statistics, 4,000 People died in Bengaluru last year due to Air Pollution. Road Accidents kept increasing day-by-day. To curb the air pollution, A ban should be imposed on vehicles which are operational since 15 years and expand the public transportation system'.
Transport Commissioner VP Ikkeri told around 1.5 lakh people in the country have been dying in road accidents in India every year. He opined creating awareness about the road safety among public is the only solution.
If this model proposed by the Karnataka Government becomes successful, Other Indian States might implement the same rule to improve the situation. Such strict measures can only make people behave in a responsible manner.