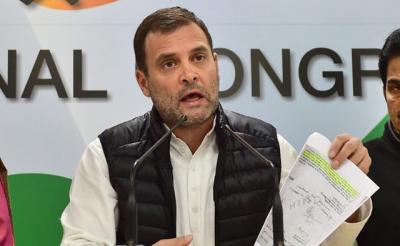 Rahul Gandhi accused Narendra Modi of lying about the Special Category Status promised for Andhra Pradesh during the 2014 General Elections. Extending his solidarity to AP CM Chandrababu Naidu who took up a 12-hour long protest, Congress Chief said: 'Whether or not a Prime Minister should stand by the commitment he made to the people in this country? What kind of PM is Modi? Are Andhrites not part of India? Narendra Modi keeps on lying wherever he goes. He lied about Special Status in Andhra Pradesh. A PM has to fulfil his promises. I stand with the people of AP'.
Former PM Manmohan Singh demanded NDA Government to accord Special Category Status which was a promise made to Andhra Pradesh on the floor of the house. He stressed there is need to implement the demands of AP Government without any further delay.
Delhi CM Arvind Kejriwal and TMC MP Derek O'Brien had extended support to the TDP Protest in Delhi for Special Category Status and other promises of AP Reorganisation Act 2014.