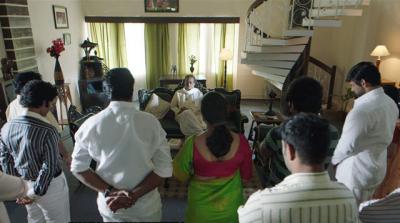 Telugu People are waiting for the harsh reality being presented by Ram Gopal Varma with Lakshmi's NTR. The controversial filmmaker isn't going to spare any of those who were involved in the backstabbing episode.
As per grapevine in the Industry, Varma picturized the sensational episode at a building resembling the Viceroy Hotel few days ago. He even included the scene of TDP Leaders hurling slippers at NT Rama Rao during the August crisis.
RGV is going to focus on the role played by NTR's Sons and Daughters during the Viceroy Episode. This include the stand taken by Harikrishna and Balakrishna against their Father when he was backstabbed.
Lakshmi's NTR could be like a bitter pill for the family members of NTR. Only Lakshmi Parvati might be happy with the way this biopic has been shaping up.