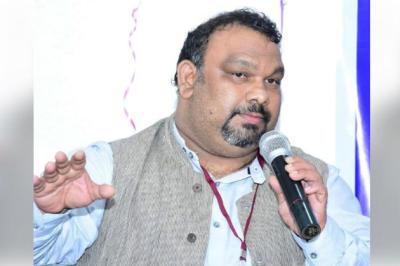 Kathi Mahesh claimed to be least bothered about netizens trolling him whether if its Mega Fans or Nandamuri Fans. 'I am expressing my views. It's up to the people to decide whether they believe it or not. Or else, Ignore me completely assuming I am a mad fellow,' he says.
In an interview, Kathi Mahesh said: 'Balakrishna is a certified mentally challenged person. How could anybody differ with a government certificate? Tell me, How consistently he speaks in the public domain? Will there be any consistency in his speeches? Starting from Ma Nanna Garu, He would go to anywhere. How should a public representative behave in public domain? Balayya slaps, abuses and kicks Fans who take photos. He talks about blood & breed...Is he a king or feudal lord? He is an Actor & Politician. As a citizen, He is answerable to Me. His public behaviour matters. If he falters in that, People will lose respect on him. He should be aware of it or else this becomes a problem. I can't treat him as a god because I don't believe in god. When he doesn't follow basic principles in public life, I have the right to question him and that's what I am doing now'.
To bail out himself from the murder attempt case, Balakrishna obtained a certificate from Erragadda Mental Hospital that he is mentally unfit. That's the point Kathi Mahesh raised during the debate over Balayya-Naga Babu issue.