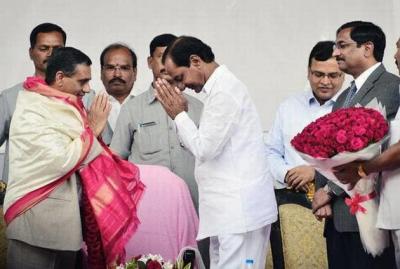 KCR is famous for hurling political googlies. If our sources are to be believed, he is all set to hurl another political googly for the Lok Sabha polls. He is set to bring in senior IAS officer and AP chief secretary Rajiv Sharma into politics and make him the TRS MP candidate from Malkajgiri.
KCR is very impressed by Rajiv Sharma's work as chief secretary. He feels Sharma has worked hard to protect the interests of the Telangana state. Also, he knows that Rajiv Sharma enjoys great rapport with the officials of the Central Government and can effectively lobby for the state. Hence he feels Rajiv Sharma should be sent to the Lok Sabha. KCR is of the opinion that Rajiv Sharma can easily win from Malkajgiri. KCR got several surveys about the prospects in MP election and found that all of them predicted a landslide for the TRS. So, he is confident that Rajiv Sharma would have a cakewalk in the elections.
Malkajgiri Lok Sabha seat is represented in the current Lok Sabha by Malla Reddy, who has contested as an MLA and won from Medchal Assembly constituency. After the victory, Reddy has sent his resignation to the Lok Sabha Speaker. Interestingly, several IAS officer, industrialists and NRIs too are showing keen interest in contesting for the Lok Sabha on TRS ticket.