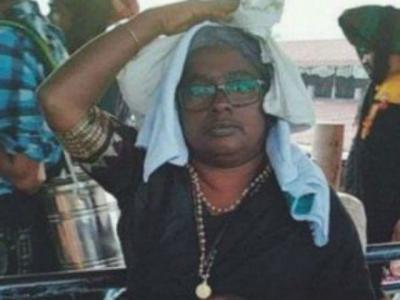 P Manju, a 36-Year-Old Dalit Woman, claimed to have entered Sabarimala Temple in the disguise of an old woman. In her Facebook Post, She had shared her photograph shot while offering prayers at the hill shrine. 'I had a fruitful darshan of the presiding deity. I dyed my hair grey and pretended to be an aged woman. Nobody noticed me and I will continue my visit in future also,' she wrote.
Interestingly, Manju made it clear she hadn't sought any police protection to enter Sabarimala Temple. She even claimed to have scaled 18 holy steps at the shrine.
Actually, Manju is one among around 20 Women who had unsuccessfully attempted to enter the Sabarimala Temple in October last year. She is also an active member of the Mahila Dalit Foundation.
On January 2nd, Two Women identified as Bindu Ammini and Kanakadurga entered Sabarimala Temple with the support of Police. They, however, didn't climb the 18 steps but preferred a route meant for the staff.