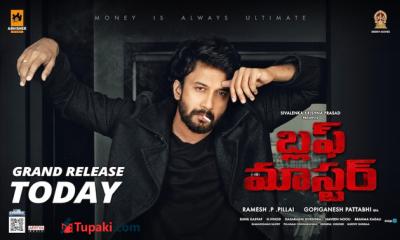 Movie Review: Bluff Master
Rating: 2.5/5
Cast: Satya Dev, Nanditha Swetha, Aditya Menon, Brahmaji, Pruthvi, Sijju, Balakrishna, Krishna Chaitanya & Others.
Music: Sunil Kashyap
Cinematography: Dasaradhi Sivendra
Story: H Vinod
Dialogues: Gopi Ganesh - Pulagam Chinna Narayana
Producer: Ramesh Pillai
Screenplay & Direction: Gopi Ganesh
Release Date: 28th December 2018
Satya Dev shot to fame with pivotal roles in films such as 'Jyothi Lakshmi', 'Kshanam' and 'Ghazi'. For the first time, He has done a full-fledged Hero role in 'Bluff Master' which is a remake of Tamil hit 'Sathuranga Vettai'. Gopi Ganesh wielded the megaphone. Let's see what it has to offer...
Synopsis:
Uttam Kumar (Satya Dev), an orphan who turns into a conman for survival, kept getting richer by cheating people. He, however, will be nabbed by the cops after a failed attempt but walks out of the prison using the ill-gotten money. This is when the sins committed by Uttam Kumar begins haunting him one after the other. How did he come out this mess forms rest of the tale..!
Performances:
Satya Dev established himself as a good performance with 'Bluff Master'. Rarely does we witness an Actor without any image having such good screen presence and high confidence levels. Be it his look, dialogue delivery or performance, Satya Dev is flawless in every aspect. Don't be surprised if this movie fetches him many offers!
Nanditha Swetha does a fine job as female lead. Aditya Menon has done well as an Antagonist. Brahmaji and Pruthvi tickle the funny bone. Krishna Chaitanya and other Actors have done justice to their roles.
Pros:
Satya Dev
Dialogues
Background Score
Cons:
Unconvincing Scenes
Second Half
Technicalities:
Music Composed by Sunil Kashyap is an asset to 'Bluff Master'. Though the two songs were just alright, Background Score is pretty impressive. Cinematography by Dasaradhi Sivendra is in perfect sync with the theme. Production Values were decent. Editing should have been better. Dialogues were well-written. Director Gopi Ganesh  hadn't made any changes to the Telugu Version. He was unable to continue the gripping narration in the Second Half.
Analysis:
Very few remakes have been attempted in the Telugu Film Industry in the recent years due to the drastic decline in the success rate. Nobody is daring to attempt a remake unless the original is a path-breaking movie. In such times, Satya Dev relied on Tamil hit 'Sethuranga Vettai' which released five years ago to establish himself as a hero. This Youngster made full use of the opportunity which came his way.
Although Satya Dev's performance and few episodes have been good, Lack of a solid story & taut screenplay worked against 'Bluff Master'. The whole script is based on the real life incidents (Rice Pulling Scam in Hyd, Snake Gang Looting in Tamil Nadu and Multi-Level Markerting Scams) involving conmen and hence audience connect with them instantly.
Characterization of the Protagonist has been very interesting. The manner in which people were duped using the snakes entertains. Even the multi-level marketing episode is decent. Pace of the movie drops after the arrest of Protagonist and only picks up when he walks out of the prison.
The result of 'Bluff Master' could have been different had if the Second Half is as gripping as the First Half. Unconvincing Episodes not only confuses the viewers but also makes them lose interest. Tempo keeps fluctuating a lot. Other than the Rice Pulling and Gold Scams, There is nothing much to entertain in the Second Half. Overall, You could watch 'Bluff Master' for Satya Dev's Performance, Few Interesting Conman Episodes and Dialogues.
Bottom Line: Impresses In Parts!