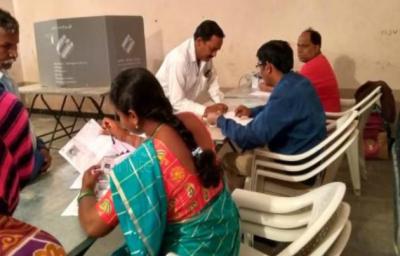 Election Commission declared that polling in the 119 Districts of Telangana has been peaceful on Friday. Polling in 13 Constituencies where law-and-order issue might arise due to naxal factor ended by 4 PM itself. Here is the list of those segments - Sirpur, Chennur (SC), Bellampally (SC), Mancheryal, Asifabad (ST), Mandhani, Bhupalapally, Mulugu (ST), Pinapaka (ST), Ellandu (ST), Kothagudem, Aswaraopeta (ST) and Bhadrachalam (ST).
In rest of the 106 constituencies, Voters were permitted to cast their vote until 5 PM.
By 3 PM, 56.17 percent polling has been recorded in Telangana.
By 5 PM, Polling Percentage has gone up to 67 percent in the youngest state. Chief Electoral Officer Rajath Kumar shared this news to media. He also hinted there could be slight variation in the Polling Percentage once after receiving 100 percent data from every nook and corner in the state.
While 82.19% voter turnout was recorded in Huzurabad, Voter turnout in Manakondur and Choppadandi has been 81.5 percent & 78.46 percent respectively.