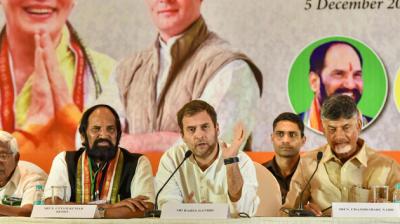 Polling of Telangana Assembly Polls 2018 begins in the next 10 hours. Which party is gonna form the government would be declared on December 11th. If TRS retains power, KCR will continue as the Chief Minister of Telangana. What if Mahakutami forms government? Though all the alliance partners are okay with a Congress Leader becoming CM, Who is going to get lucky is a million dollar question as there are too many aspirants. In Congress, There are 40 CM Candidates in Telangana as per the buzz doing rounds. Will it be Uttam Kumar Reddy or Revanth Reddy or Jana Reddy or Sabitha Indra Reddy or DK Aruna or Mallu Bhatti Vikramarka or Vijayashanti or Damodhar Rajanarasimha or Komatireddy Venkat Reddy or Ponnala Lakshmaiah?
Generally, Congress doesn't announce CM Candidate prior to elections. In most cases, PCC Chief will be elevated as Chief Minister if Congress forms in any of the states.
The National Party might be having different plans in Telangana. A Dalit is likely to be the Chief Minister if Congress-led Mahakutami forms the government. This will be a befitting answer to KCR who ignored the poll promise of Dalit CM after winning in the 2014 General Elections.