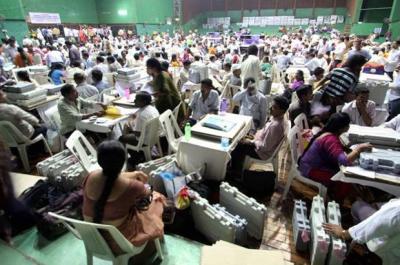 Telangana People will be taking a crucial decision Tomorrow. They would be deciding who has to rule them for the next five years by exercising their right to vote on December 7th. Know these facts before Voting...
Telangana became a separate state on June 2nd, 2014. There are altogether 119 Assembly Constituencies in 31 districts. Population of Telangana is anywhere around 3.5 crore. While 1.36 crore people live in Urban Areas, 2.13 crore continue to stay in Rural Areas.
Telangana GDP for the financial year 2018-19 is about Rs 8.43 lakh crore. 66.54 percent of people in the state are literates.
Total Number of Voters in Telangana - 2,61,36,776. As many as 32,574 polling booths have been set up for the polling.
About 88 out of 119 Constituencies are in General Category. While 19 Segments are SC-reserved, 12 Segments are ST-reserved.
2014 Election Results:
TRS: 63 Seats; Congress: 20 Seats; TDP: 15 Seats; MIM: 7 Seats, BJP: 5 Seats; Others: 8 Seats.
KCR, who fought relentlessly and achieved statehood after 13 years, created history by becoming the first Chief Minister of Telangana State.