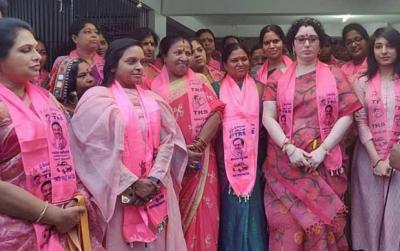 The Survey conducted by 'Andhra Octopus' has been favourable to the People's Alliance in Telangana. Both KCR and KTR predicted the survey conducted by the Former MP is bogus and it's intended to favour the Opposition. Telangana Caretaker CM had cautioned people not to fall in the trap of fake survey. He even commented that Wives of Congress Leaders have been opposing their Husbands in Telangana. This statement seems to be very much true if what happened in Khairatabad is any indication.
TRS offered Khairatabad Ticket for Danam Nagendar. Anitha who happens to be the Wife of the former Minister has been campaigning for her Hubby since few days. On Wednesday, None other than Lagadapati Rajagopal's Wife Padma extended support to the TRS while campaigning for Danam on Wednesday.
Padma opined projects taken up by TRS have been at the halfway mark and they could be completed if KCR remains the CM of Telangana for one more term. 'There is no anti-incumbency in Telangana for sure,' she declared, hinting her Husband's Survey can't be taken seriously.
Few weeks ago, Damodhar Rajanarasimha's Wife quit Congress and joined BJP. By evening, She returned to the Congress Party. Even Lagadapati is a former Congress MP. So, KCR's comment makes sense.