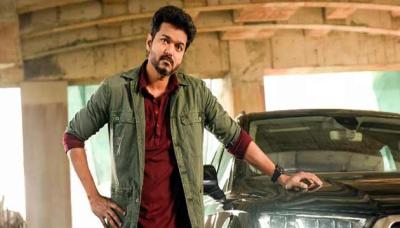 AIADMK Ministers and Leaders complain Makers of 'Sarkar' insulted Jayalalithaa on ground that the role of Komalavalli (Lady Villain) essayed by Varalakshmi Sarath Kumar was loosely based on the former Chief Minister of Tamil Nadu.
Kalanidhi Maran of Sun Pictures produced 'Sarkar' directed by AR Murugadoss. He is a close relative of DMK supremo MK Karunanidhi family. AIADMK Leaders complain certain scenes in the Vijay-starrer have been insulting to Amma and critical of the welfare schemes introduced by her. Ministers warned appropriate action if objectionable scenes haven't been removed from the film.  
Sasikala's Nephew & RK Nagar MLA TTV Dhinakaran issued a clarification: 'Jayalalithaa's original name wasn't Komalavalli. It was publicized in that manner in the year 2003. When a Congress Leader addressed her as Komalavalli, Amma asked Me why did he do that though she didn't even play a character by name Komalavalli. There are no scenes that can be treated as an insult to Jayalalithaa in 'Sarkar'. May be, AIADMK Leaders are yet to watch the film'.