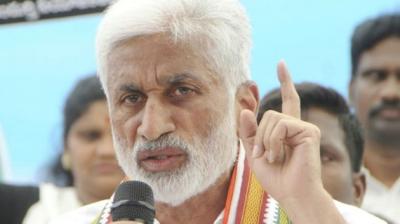 Political Opponents kept saying all these years that Chandrababu Naidu repeats the same thing repeatedly as he have Alzheimer's. KVP Ramachandra Rao had once told Alzheimer's is in the last stage for Babu. And now, It's been said that TDP Supremo is suffering from one more disease which is identified as Pathological Lying, a behaviour of Habitual or Compulsive Lying.
YCP MP Vijay Sai Reddy told Chandrababu Naidu have a serious personality disorder named 'Pathological Lying'. 'Finally, Psychologists found the reason behind TDP Chief speaking blatant lies all the time. It's Pathological Lying! Cooking up fake stories, speaking lies and trying to project them as truth are the symptoms of this disease. Statements like Victory against Hudhud Cyclone, Successfully reduced the intensity of Titli Cyclone, Controlled the ocean and Conducting Olympics in Amaravati are best examples of his mental condition'.
YSR Congress General Secretary holds the credit of offering two titles for Chandrababu Naidu. He was the one who called CBN as 'U-Turn Babu' after TDP changed it's stand repeatedly on Special Category Status. And now, Babu was called a Pathological Liar for allegedly making false statements.