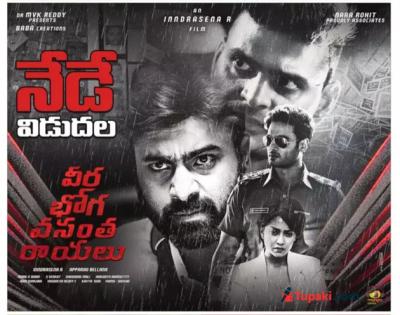 Movie Review: Veera Bhoga Vasantha Rayalu
Rating: 0.5/5
Cast: Nara Rohit, Sudheer Babu, Sree Vishnu, Shriya Saran, Srinivas Reddy, Ravi Prakash & Others.
Cinematography: Naveen Yadav
Music: Mark K Robin
Producer: Appa Rao Bellana
Story, Screenplay & Direction: R Indrasena
Release Date: 26th October 2018
'Veera Bhoga Vasantha Rayalu' generated lot of buzz be it with casting or unique posters or intriguing trailer. When Actors like Nara Rohit, Sudheer Babu, Sree Vishnu and Shriya Saran come together, Movie Buffs expect the project to have some speciality in it. Let's see whether or not the content met the expectations...
Synopsis:
'Veera Bhoga Vasantha Rayalu' is a crime thriller based on three subplots running parallelly. First Subplot - A Boy complains to Inspector Vinay Kumar (Sudheer Babu) that his house disappeared along with his Parents. Second Subplot - Flight with 300 Prominent Personalities onboard gets hijacked. Investigation Officers Deepak Reddy (Nara Rohit) & Neelima (Shriya) try to chase the mystery. Third Subplot - Several Girls will be kidnapped in Hyderabad. Veera Bhoga Vasantha Rayalu (Sree Vishnu) will be behind all these incidents. He sets a strange condition for releasing all the hostages from his custody. On the other hand, Mysterious Deaths continue to irk the Investigation Agencies. For what purpose these murders are happening forms rest of the tale.
Performances:
Casting of 'Veera Bhoga Vasantha Rayalu' drew all the attention as not very often three young heroes come together for a project. Sree Vishnu underwent a shocking makeover. However, Scenes involving him looked far away from reality. Better if Nara Rohit stops doing investigative job again & again. Movie Lovers have already began feeling monotony. Sudheer Babu did play his role well but he doesn't have much scope for performance either. Using the services of a Dubbing Artist for his character made viewers disconnect with it instantly. Shriya Saran appears to be a misfit for the role she essayed here.
Attempts of Srinivasa Reddy to evoke laughter failed terribly. Ravi Prakash and Edida Sriram are aptly cast. Role of Shashank ends abruptly.
Pros:
Storyline
Cons:
Screenplay
Direction
Production Values
Technicalities:
Music composed by Mark K Robinson is disappointing. Cinematographer S Venkat tried his best to cover up the dismal production values. Editing is terribly. Several Scenes could have been removed/trimmed to keep the run time crisp. Dialogues are okay. Production Values are poor. Debutante Director R Indrasena choose an interesting theme but falters in the execution. Lack of screenplay that could keep the viewers on the edge of their seats worked against the movie.
Analysis:
Taking up a subject related to a Social Menace and presenting it in the form of a thriller with all the commercial elements is like walking on a double edged sword. Wonders can be created if the content hits the bull's eye else the project would end up biting the dust. 'Veera Bhoga Vasantha Rayalu' falls in the second slot due to lack of ample home work needed for a gripping screenplay.
An attempt was made to maintain suspense element till the end with the help of Lead Cast and unravel the mystery in the climax. The plan backfired due to lack of moments which could built the tension. Inexperience of Director Indrasena is evident throughout the course of the movie. Flight hijack concept could have been more relevant in the 80s or 90s. The way whole sequence was executed appears silly. Even the subplot related to the disappearance of House wasn't presented convincingly. The manner in which three subplots were interlinked evokes laughter rather than thrill.
Viewers lose the interest within the first half-an-hour due to unnatural performances and poor presentation. Unraveling the Suspense Elements one after the other in the Second Half only leads to confusion. By the time Final Twist was unveiled, People just can't wait anymore to walk out of the theatres.
Indrasena succeeded in convincing Three Heroes & A Senior Heroine become a part of his debut flick. He, however, couldn't live up to the trust they have on him. Although the three subplots looks interesting on the paper, Execution matters the most to convince the people so as to develop an emotional connect. Overall, 'Veera Bhoga Vasantha Rayalu' is a forgettable film for all those associated with it.
Bottom Line: Stay Away!