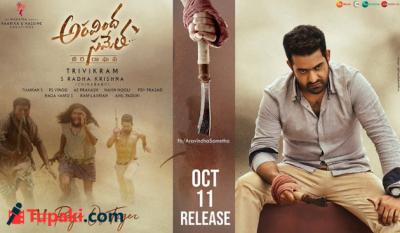 Movie Review: Aravindha Sametha Veera Raghava
Rating: 3/5
Cast: NTR, Pooja Hegde, Jagapathi Babu, Nagababu, Rao Ramesh, Sunil, Eesha Rabba and Others.
Music: SS Thaman
Cinematography: PS Vinod
Producer: S Radhakrishna
Story, Screenplay & Direction: Trivikram Srinivas
Release Date: 11th Of October 2018
Jr NTR & Trivikram Srinivas have made movie buffs wait for a project in their combination for several years. At last, They both arrived with 'Aravindha Sametha Veera Raghava'. Let's see whether it's worth waiting so long...!
Synopsis:
'Aravindha Sametha Veera Raghava' is based on the two faction-driven villages in Rayalaseema Region. While Narapareddy (Nagababu) is the head of Kommadi village, Basireddy (Jagapathi Babu) is the village head of Nallagudi. People of 20 surrounding villages suffer a lot due to factionism. Veera Raghava Reddy (NTR) happens to be the Son of Narapareddy. Upon witnessing rivals kill his Father in front of his eyes, NTR goes on a rampage but the words of his Grandmother brings a change in him. Thereafter, He comes to Hyderabad to stay away from the factionism. That is when the words spoken by Aravindha (Pooja Hegde) makes him a completely different person. He then takes the decision to end factionism completely. Did Veera Raghava accomplish the mission successfully?
Performances:
Jr NTR delivered yet another memorable performance in his career. This film speaks volumes about the maturity levels shown by Young Tiger. NTR excelled in every sequence and carried the whole movie on his shoulders.  
Jagapathi Babu breathed life into the character of factionist. Be it his makeover, body language or dubbing, Every aspect looked more than perfect & hence he stands only next to Tarak in terms of performance.
Naveen Chandra left a mark of his own despite less screen time. Pooja Hegde doesn't have much scope for performance but she impressed with her glamour. Brahmaji and Shatru have done complete justice to their roles.
Pros:
NTR
Dialogues
Background Score
Emotional Quotient
Cons:
Love Track
Songs Picturization
Technicalities:
Songs composed by SS Thaman are way too different from his past films. 'Peniviti' and 'Anaganaga' are the best tracks in the album. However, Trivikram disappoints with poor picturization of songs. Thaman's Background Score is marvelous in all the key sequences. PS Vinod's Camera Work is flawless. He captured the Rayalaseema Nativity to perfection. Production Values are grand. Trivikram Srinivas tried to present a new dimension in him with 'Aravindha Sametha'. Instead of banking heavily of light-hearted moments, He preferred to narrate a serious subject in an impactful manner. Though it's the same old story, Trivikram left his mark by presenting Rayalaseema backdrop so close to reality. He, however, wasn't at his best in City-backdrop Sequences. Of course, There are many dialogues which reflect the stature of Trivikram in 'Aravindha Sametha'. Guruji is back both as a Writer & Director.
Analysis:
First of all, NTR & Trivikram Srinivas deserves a special mention for doing what is required for the story rather than including unnecessary commercial elements. It's a good sign that Actors & Directors aren't taking their Stardom or Image too seriously. If a story is being narrated with utmost honesty, Movie Buffs will be always ready to embrace such content-driven subjects. 'Aravindha Sametha' is one such sincere effort!
Story of this NTR-starrer is no way different from few blockbusters films releases in the past decade or so. What makes it appeal is the in-depth focus on the families suffering due to factionism. Generally, Filmmakers glorify heroism but neglect the price paid by the families in faction-driven villages. Trivikram decided to throw a light on the ground reality. What's worth mentioning is the manner in which Trivikram presented Rayalaseema Dialect, Backdrop, People & Factionism so authentically. Very few filmmakers have attempted something like this till date and and this is why Trivikram deserves a pat on his back.
A high-octane action episode was placed in the very beginning of 'Aravindha Sametha Veera Raghava' instead of making it an Interval Block or Climax. Why because, Trivikram doesn't want to show a war but what are the consequences of it.
Romantic Track of the Lead Pair is unappealing to say the least. Though an attempt was made to present Heroine as someone who motivates Hero to end faction, The desired impact wasn't achieved and even the silly characterization hampers the impact. Face of the movie picks up only after the end of love track. From the Interval Bang, Trivikram yet again shows how good he is as a writer and director. Compromise episode of Tarak & Naveen Chandra stands out. Pre-Climax & Climax have the right intensity to hit the right chord. Background Score composed by Thaman is outstanding. Overall, 'Aravindha Sametha Veera Raghava' have the elements to become a Dussehra Treat!
Bottom Line: Highly Emotional!