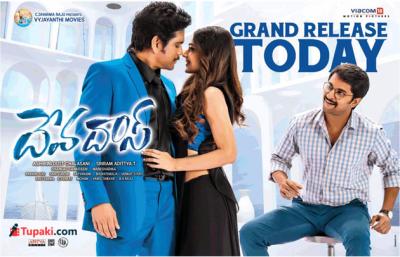 Movie Review: Devadas
Rating: 2.75/5
Cast: Akkineni Nagarjuna, Nani, Rashmika, Akanksha Singh, Sarath Kumar, Kunal Kapoor, Murali Sharma, Vennela Kishore, Naveen Chandra, Srinivas Avasarala, Naresh, Satya Krishna, Rao Ramesh, Satya, Bala Subramaniam and Others.
Music: Mani Sharma
Cinematography: Shyam Dutt
Story: Bhupathi Raja - Sathyanand
Producer: Ashwini Dutt
Screenplay & Direction: Sriram Aditya
Release Date: 27th September 2018
Akkineni Nagarjuna & Nani joined hands for the first time to deliver a multi-starrer, 'Devadas'. Sriram Aditya who proved his mettle with 'Bhale Manchi Roju' and 'Shamanthakamani' wielded the megaphone. Producer Ashwini Dutt became active as Producer again with this movie. Has 'Devadas' met the high expectations?
Synopsis:
Deva (Nagarjuna), a don who is on a run, gets injured during a Gang War. He ends up meeting Das (Nani), who is a Doctor running private clinic, for the treatment and they develop a bond gradually. What impact did Deva's Mafia Background have on their Friendship? Who influenced whom in the process of getting to know each other forms rest of the tale!
Performances:
Nagarjuna has done the role of Don in few of his previous movies. He, however, looks way too different from them in this movie. His screen presence is awesome and thrills the fans to say the least. He is too good in the scene in which he teases Nani.
As usual, Nani entertains thoroughly. He did complete justice to the role of innocent doctor, be it comedy or emotional scenes. Performance in the sequence in which he had a clash with Deva stands out.  
None of the Two Heroines got to play key roles. Rashmika is a misfit as cop. Of course, She looked beautiful in the movie but there is nothing to talk about her performance. Akanksha Singh doesn't have much screen time but makes her presence felt with glamour.
Sarath Kumar does a fine job. Naveen Chandra is alright. Kunal Kapoor as Antagonist failed to leave a big impact. Nothing much to say about Murali Sharma. Vennela Kishore was underutilized. Satya and Naresh managed to evoke few laughs.
Pros:
Nag-Nani Bromance
Comedy
Production Values
Cons:
Story
Screenplay
Mafia Setup
Technicalities:
Songs composed by Mani Sharma mayn't be chartbusters but they aren't bad at all. 'Vaaru...Veeru' Song composition and picturization is worth praising. For some reason, 'Edo Edo' track which is so good has been cut. Background Score is pretty good. Camera Work by Shyam Dutt is one of the highlights. The whole movie looks so rich and colorful. Production Values are on par with Vyjayanthi Movies. Story penned by Satyanand and Bhupathi Raja lacked any speciality. Sriram Aditya's Screenplay is okay. Stylish Taking has been the biggest positive. The Young Filmmaker designed the roles of Two Heroes very well & generated good humour making use of their backgrounds. He, however, failed to etch rest of the characters well and maintain a good flow.
Analysis:
Crazy Combination of Nagarjuna & Nani is the major attraction when it comes to 'Devadas'. People are curious to know how their combo scenes would be like. Makers took ample care in making both these characters so adorable. While Nagarjuna thrills with his screen presence & style quotient, Nani mesmerizes with his innocence & natural performance. Almost all the scenes featuring both the Male Leads have come out very well. Even the Comedy Quotient is good enough. That doesn't mean 'Devadas' doesn't have any drawbacks. Neither the Story/Screenplay nor the way rest of the characters were etched out leaves a positive impact.
Sriram Aditya focussed only on Nag-Nani Combo & how he could utilize their abilities to the fullest. Neglecting other aspects make 'Devadas' an ordinary movie. It could have been a Classic had if the Story & Screenplay are much better. Concept of friendship between a Mafia Don & Innocent Doctors is very interesting. Lack of strong emotional quotient which could take the story forward is the major setback.
Huge build-up was given during the introduction of Deva's Role. However, There are no scenes which could justify it in the movie. The attempts made by Cops to nab Deva look outright silly. Especially, Under-Cover Operation scene with Rashmika became a laughing stock. Casting the Kannada Beauty in the role of Cop is a blunder and it hampered the seriousness required.
Combination Scenes of Nag and Nani are an asset for 'Devadas'. Though they aren't hilarious, Those Sequences would certainly entertain the movie buffs. Conflict Scene between Deva and Das has been nicely executed. Lack of freshness and good twists in the screenplay proved costly. Nevertheless, Fans of Nagarjuna and Nani will be pleased with 'Devadas' at least to some extent.
Bottom Line: Watch It Just For Bromance!