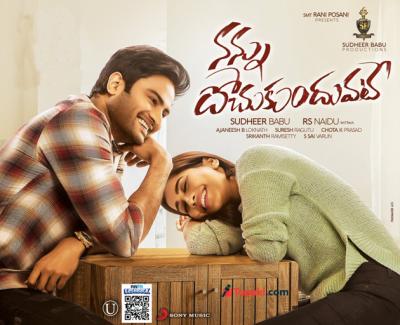 Movie Review: Nannu Dochukunduvate
Rating: 3/5
Cast: Sudheer Babu, Nabha Natesh, Nasser, Pruthvi, Thulasi, Sudarshan, Viva Harshan, Jeeva, Jabardasth Venu & Others.
Music: Ajaneesh Loknath
Cinematography: Suresh Raguthu
Producer: Sudheer Babu
Story, Screenplay & Direction: RS Naidu
Release Date: 21st September 2018
'Sammohanam' brought back the career of Sudheer Babu on the right track. This time, He is testing his luck with a Romantic Comedy titled as 'Nannu Dochukunduvate'. Sudheer Babu himself produced this entertainer which is directed by a Newbie. Let's see what it can offer...
Synopsis:
Karthik (Sudheer Babu), who is a Manager in an IT Company, acts like a tough boss. He doesn't care about anything other than work as his only goal is to settle in US. One fine day, Karthik's Father fixes his marriage with a Close Relative. To prevent it from happening, Karthik tells his Father that he is already in love with a girl named Siri. Then, He hires a Short Film Actress Meghana (Nabha Natesh) to convince his Father. In the process, They both fall in love but none of them express their feelings and get separated. How did they unite again? Watch 'Nannu Dochukunduvate' in theatres near you..!
Performances:
Sudheer Babu appeared pretty confident and gave a settled performance. He actually portrayed the Tough Boss character pretty well. Short Film Sequence of Sudheer Babu is hilarious.
Nabha Natesh is a major attraction in the movie. Though it's her Telugu debut, This Beauty steals the show with her screen presence and performance.
Nasser showed his expertise in the Pre-Climax. Tulasi has done a good job. Viva Harsha evokes laughter.
Pros:
Nabha Natesh
Nasser
Short Film Track
Cons:
Music
Ineffective Break-Up Scene
Predictable Story & Screenplay
Technicalities:
Music by Ajaneesh Loknath could have been lot better. None of the songs leave a big impact. Background Score is good in parts. Camera Work by Suresh Raguthu is flawless. Production Values are pretty nice. Debutante Director RS Naidu scores brownie points with situational comedy though the story looks ordinary.
Analysis:
'Nannu Dochukunduvate' is a breezy Romantic Entertainer. Though it have a predictable Story & Screenplay, Director RS Naidu made it as entertaining as possible with ample dose of humorous moments. Youth could relate to the characters of Hero & Heroine.
Lack of any freshness in the Story & Screenplay is the major drawback of 'Nannu Dochukunduvate'. Neverthless, Scenes penned by Writer-cum-Director based on the characters of Lead Pair are very entertaining. Sudheer Babu as IT Company Manager who tortures Subordinates entertains thoroughly. Introduction of Heroine ups the pace of the movie. Nabha Natesh brought the required freshness needed for a Rom-Com and stood as main highlight. The way Director designed her character is very interesting. Short Film Sequence of Lead Pair has come out well. First Half is so entertaining..thanks to the situational comedy.
Inexperience of the Director is evident in the Second Half where the actual story unravels. While the role of Heroine looks very special in First Half, It wasn't etched out properly in the Second Half. Scenes leading to the separation of Hero-Heroine look forced.
Father-Son Sentiment in the Pre-Climax is one of the highlights. Nasser excelled in this sequence. This is where Director leaves a mark of his own once again. Overall, 'Nannu Dochukunduvate' is a romantic comedy you may give it a try this weekend.
Bottom Line: Timepass Fare!