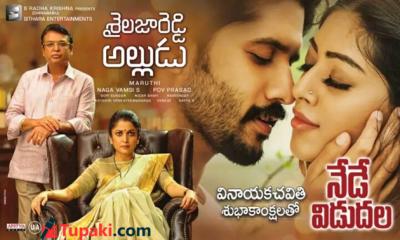 Movie Review: Shailaja Reddy Alludu!
Rating: 2.5/5
Cast: Naga Chaitanya, Anu Emmanuel, Ramyakrishna, Murali Sharma, Vennela Kishore, Pruthvi, Naresh, Sathru & Others.
Music: Gopi Sundar
Cinematography: Nizar Shafi
Producers: Naga Vamshi - PDB Prasad
Story, Screenplay & Direction: Maruthi
Release Date: 13th September 2018
Naga Chaitanya and Maruthi teamed up for 'Shailaja Reddy Alludu' which is being packaged as a pucca commercial entertainer. This movie released Today on the eve of Vinayaka Chavithi. Let's see if Chay delivered a successful film or not...
Synopsis:
Chaitu (Naga Chaitanya) falls in love with an egoistic girl Anu (Anu Emmanuel) who is just alike his Father. Engagement of Chaitu & Anu happens in an unexpected manner. That's when Chaitu's Family comes to know about Anu's Mother Shailaja Reddy (Ramyakrishna) who is the epitome of ego. What has she done upon knowing about the engagement? Whether or not Chaitu & Anu get married? Watch 'Shailaja Reddy Alludu' to know more..!
Performances:
'Shailaja Reddy Alludu' can't be a special film for Naga Chaitanya as the story revolves around Shailaja (Ramyakrishna) and Anu (Anu Emmanuel). He, however, appears very handsome and stylish in this movie. Movie Lovers would get to know about the Comic Timing of Chaitu who acted with so much ease throughout the movie.
Although her role didn't meet the expectations people had after watching the promos, Ramyakrishna has done a fine job as Shailaja Reddy. This Senior Actress is an asset to this movie.
Anu Emmanuel is alright. Vennela Kishore does a full-length role but it's no where close to any of his best performances. Pruthvi tickles the funny bone. Naresh is okay. Murali Sharma irritates. Nothing to say about rest of the cast.
Pros:
Ramyakrishna
Vennela Kishore-Pruthvi Comedy
Cons:
Second Half
Weak Characterizations
Routine Commercial Elements
Technicalities:
Music composed by Gopi Sundar isn't bad at all. While few songs are nicely composed, Background Score is really good. Camera Work by Nizar Shafi is one of the highlights. He made every frame look so rich  & colorful. Production Values are appreciable. Writer-cum-Director Maruthi chose 'ego' concept which offers good scope for entertainment but comedy dose isn't up to the mark in 'Shailaja Reddy Alludu'. He failed to show any freshness be it in the story or screenplay.
Analysis:
Characterizations of Protagonists are main attraction in films such as 'Bhale Bhale Magadivoy' and 'Mahanubhavudu'. Loads of humor has been generated by Maruthi based on them. For 'Shailaja Reddy Alludu', He choose 'ego' as the main theme but was unable to produce hilarious moments in this attempt. Roles of Shailaja Reddy & Anu has been introduced in an impactful manner. However, Director failed to maintain that tempo after a point and hence viewers lose interest within short time.
Build-up given to the role of Shailaja Reddy doesn't match the scenes featuring Ramyakrishna. While the Mother & Daughter stop talking to each other because of ego, Second Half is mostly based on how to make them patch up. Audience get the feeling that Maruthi has dragged the Second Half so much. This mayn't be a big issue had if there is ample comedy. Lack of enough entertainment is the major reason behind the negative feedback.
The sequence in which Hero changes his identity to make Heroine fall in love with him looks outdated. Love Story of the Lead Pair isn't promising at all. There is nothing much to say about First Half except for few comedy punches of Vennela Kishore. Role of Anu Emmanuel starts off well but ends poorly. Too much focus on ego irritates to say the least. Maruthi just tried to convey the characters through dialogues rather than establishing them properly with impact creating scenes.
Generally, Audience could relate to characters designed by Maruthi instantly. In contrast, The role of Murali Sharma in 'Shailaja Reddy Alludu' makes people wonder whether Maruthi lost his touch. Pre-Interval Scenes featuring Murali Sharma are so annoying. Ramyakrishna has given her best but it's the Writer-cum-Director in Maruthi who failed to utilize her to the fullest. Comedy generated by Vennela Kishore & Pruthvi mayn't be everyone's cup of tea. Glamour Show of Anu Emmanuel could be embraced by the Youth. Overall, Low dosage of Maruthi-mark entertainer proves costly for 'Shailaja Reddy Alludu'.
Bottom Line: Nothing Extraordinary!