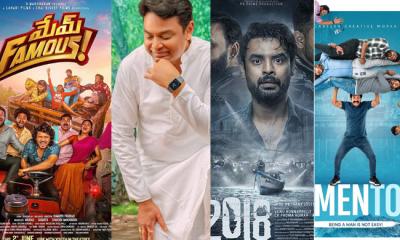 Every Friday is a festival in theatres as new movies arrive in Tollywood. At least one film hits the screens every Friday whether it is big or small. Following the same pattern, a bunch of films are releasing on 26th May after a lot of promotions. We need to wait and see if they could impress the audience or not.
This time, there are no big releases in Tollywood but a few small films with good buzz around them are arriving in theatres. The producers of these flicks are coming to test their luck targeting the youth and the family audience. The biggest of the lot is definitely Naresh and Pavitra's 'Malli Pelli' movie.
Along with that, 'Mem Famous' which has Sumanth Prabhas playing the lead as well as directing it has garnered a lot of buzz on social media. Malayali blockbuster movie '2018' was dubbed in Telugu by Geetha Arts banner and it is also releasing this Friday. Another film titled 'Men Too' featuring Naresh Agastya, Brahmaji, Viva Harsha and others is coming out as well and it is an out-and-out entertainer.
On the total, these four movies are getting released in 200 theatres. Geetha Arts Distribution has taken up 'Mem Famous' and '2018'. The other movies are releasing on their own. Trade experts predict that 'Men Too' and Malli Pelli' made a business of 1.4 crores before the release and a share of around 1.6 crores will make them enter the profit zone.
Sources say that the business of 'Mem Famous' is 2 crores and it needs a share of 2.2 crores to get into the hit category. Apart from being the biggest hit in the Malayalam industry, '2018' has generated a lot of hype in the Telugu market too and business is reportedly done for 1.8 crores. The breakeven mark is around 2 crores to announce the movie was a hit. Let us see how many of them impress the audience this weekend.