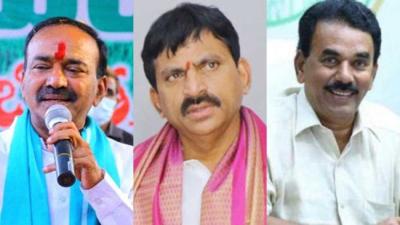 BJP biggie Eatala Rajender's secret meeting with two prominent KCR baiters – former MP Ponguleti Srinivas Reddy of Khammam and former minister Jupalli Krishna Rao of Kollapur – has become the talk of the town on Thursday. The troika met secretly at a farm house located on the outskirts of the city on Thursday and remained closeted for hours.
Both Ponguleti and Jupalli have left the TRS and have an axe to grind against KCR. The BJP is trying hard to woo them into the party. Eatala, who is the chairperson of the joinings committee of the BJP in Telangana, is said to have explained to them about the party's plan of action for the 2023 assembly elections and about what the BJP can offer to them.
However, highly placed sources say that there is much more to the meeting than meets the eye. Eatala had gone to the farm house without his security personnel. Sources say that Eatala, who is visibly unhappy in the BJP and is finding the adjustment with the BJP's working style difficult, has also discussed about the three leaders making a common cause and launching a new political party to take on KCR.
All the three leaders left the farm house without issuing any statement. They also refused to talk to the media about the meeting. Speculation is rife that the three leaders, who have considerable clout in their respective areas of influence, have reportedly discussed the ways and means to defeat KCR in the next elections.