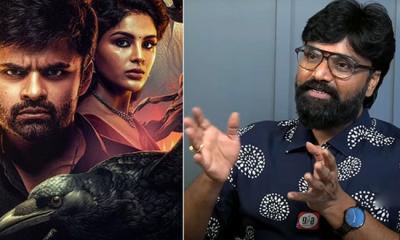 Mystery thriller 'Virupaksha' which was close to the horror genre became a blockbuster by earning a gross of around 100 crores. The box office run is finally coming to an end as the movie is made available on the digital platform recently. With the theatrical run coming to an end, a few key details regarding this film are coming out.
Recently, the film's director Karthik Dandu revealed how Sukumar made a few changes in the script that helped the movie's outcome massively. Apparently, Karthik has understood how the experience of veterans helps the film. The audience were shocked to see that it was heroine Samyuktha Menon who was performing black magic until that time. The makers were successful in keeping the audience guessing and no one would have expected it to be the female lead of the movie.
In fact, director Karthik Dandu originally planned to make anchor Shymala who played the role of Parvathi as the main villain. He readied the entire script with that point but Sukumar reportedly suggested that it will not have a lot of impact on the audience and decided to go for something which the audience will not even think about. With the star director changing the plot point and the screenplay, the entire tone of the movie got changed.
Had Karthik stuck to his original script, the thrill factor would have been totally reduced and the movie wouldn't have been such a huge hit. But Sukumar's touch played a vital role in the success of 'Virupaksha'. As we know, the killer or the culprit should never be guessed the audience in such movies and the team of 'Virupaksha' was successful in that. The young director is now trying to make a sequel to it.