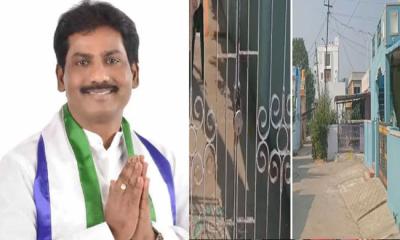 In an incident that is sure to send shock and dismay in the ruling YSRCP camp, a whole village left their homes and hearths and stayed away from attending the programme of the party's senior leader. The villagers did not want to meet the YSRCP leader, who had gone to the village as part of the Gadapa gadapaku Jagananna programme of the party.
The programme is aimed at helping the party cadre to reach out to the people in order to explain about the achievements of the YS Jagan government in the last four years. This is being organised across the state in a big way. But, at several places, the people are venting their ire over the faulty implementation of the various welfare schemes. In this incident, a whole village locked itself out to protest against the village.
The incident occurred in a village in Nelluru Gangadhara assembly constituency that is being represented by no less a person than deputy chief minister Narayana Swamy. In a colony, of the 23 households, 20 families left the village by locking their homes. Only three families remained in the village. But even they did not attend the minister's programme.
On coming to know about this, the minister called off his visit to the colony and returned in a huff. He is said to have fretted and fumed about the insulting behaviour of the colony residents. Similar incident occurred in Pootalapattu assembly constituency represented by MLA MS Babu. In Agraharam Dalit village of the constituency, the people refused to attend the meeting.