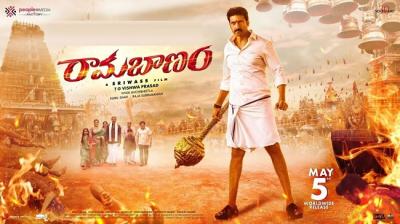 'Rama Banam' Movie Review
Cast: Gopichand, Dimple Hayathi, Jagapathi Babu, Khushu Sundar, Tarun Arora, Nassar, Subhalekha Sudhakar, Sachin Khedkar, Kasi Vishwanath, Vennela Kishore, Ali, Sapthagiri and others
Music: Mickey J Meyer
Cinematography: Vetri Palaniswamy
Story: Bhupati Raja
Dialogues: Madhusudan Padamarthi
Producer: TG Viswa Prasad
Screenplay - Direction: Sriwass
Macho hero Gopichand is known for his mass entertainers. He gave two hits like 'Loukyam' and 'Lakshyam' with director Sriwass. They are aiming for a hattrick with 'Rama Banam' and the promotional content generated a decent buzz. Dimple Hayathi is the heroine in this movie. Gopichand pinned a lot of hopes on this movie and let us see if it worked out or not.
Story:
Vicky (Gopichand) leaves his house in his teenage due to his hatred towards his brother. He goes to Kolkata and becomes the right-hand man of a Rowdy and grows in stature. He falls in love with Bhairavi (Dimple Hayathi) and she loves him back too. But Bhairavi's father doesn't agree to this marriage. He disagrees to give his daughter to a guy who doesn't have a family. Due to this, Vicky returns to meet his family after 14 years. Vicky hides the fact that he is a rowdy because his brother Rajaram (Jagapathi Babu) doesn't like violence. Vicky finds out that there is a huge threat to his brother. What will he do next? Will Vicky tell the truth to his brother? Will he save Rajaram? The answers to these questions form the rest of the story.
Analysis:
In order to know about the hero, the villain sends his man to Kolkata. After returning, the goon starts to hype up the hero by narrating a story of how Vicky turned into Vicky Bhai. One would expect a 'Basha' level story due to this elevation but all the hero does is fight with some bad guys who are trying to remove poor people from their houses. The hero utters a punchline after the fight and everyone starts fearing. This is all that happens but the entire villain gang starts sweating after listening to this story. But the viewer who watched such scenes million times before in many movies will not even flinch. This is a small example of how routine 'Rama Banam' is. Such scenes are in abundance in this film.
Hero gets angry after being scolded by his brother and gets on the train in front of him and reaches Kolkata. One expects to see how he survived as a teenager in such a big city but the makers show him in a suit while walking towards the chopper in which he goes flying. People may think that he was adopted by a big and rich family but he goes under the wing of a goon and starts doing rowdyism and settlements. He earned thousands of crores due to that which is quite strange but he never looks like a rowdy who fights people. Hero is always showcased as a stylish guy. Such logicless moments are all over the movie. The makers completely ignored logic because it is a commercial movie.
Every scene, every dialogue and every character looks like it was inspired by another movie. It looks like the writers tried to take the hit elements from every successful movie. The dialogue which says love needs two hearts but marriage requires two families from the movie 'Santosham' has been used as it is in 'Rama Banam'. Hero helping his uncle's daughter's wedding by giving 50 crores immediately and warning a minister to back away from his family's property was seen in movies like 'Athadu' and 'Attarintiki Daredi'. We get a feeling that 'Rama Banam' is going to be routine after seeing the trailer but every scene carries the same vibe which is quite disappointing. Even the organizing farming and hotels concept used in the movie does not excite the audience. By looking at the character of Jagapathi Babu in the beginning, we can come to the conclusion that we are in for a formulaic routine commercial entertainer which we have seen numerous times before. Hero going to a new city and becoming a don, hero hiding his identity to get close to his family and solving their problems silently and other threads were used endlessly in many Telugu movies already. Even the comedy track doesn't work out and the elevations scenes too are not as expected. With everything being so ordinary, 'Rama Banam' doesn't make you emotional, does make you excited and doesn't give you entertainment.
Performances:
Gopichand looks good on the screen as expected. His styling is great and his cut-out is utilized well in the action scenes. But he looks more like a corporate company employee rather than a rowdy. One wonders why the director decided to go for this look. Just like the movie, Gopichand's acting too is quite routine. Hope a movie with strong content comes his way soon. Heroine Dimple Hayathi is confined to songs. She did not have a major role in the actual proceedings and she is just placed as a background artist in many scenes.
Jagapathi Babu said that only 8-9 roles out of the 80 movies he did in the second innings are worth mentioning. It looks like he was referring to his character in 'Rama Banam'. He played a very ordinary and routine role in this flick. There is nothing to talk about Tharun Arora's villainy and Nassar too played a regular character. Though there are a lot of noted artists in this movie, they did not have substantial roles. Vennela Kishore and Ali tried to bring a few laughs with their double-meaning comedy.
Technicians:
Mickey J Meyer failed to give mass tunes that suits this movie. Even the videos of these songs looked boring. The background score is quite routine and did not elevate the proceedings. Vetri Palaniswamy's cinematography is good as the visuals look vibrant on the big screen. The producers have spent well on this movie. The richness is quite evident throughout but Sriwass failed to make the best out of the resources he was handed.
If you look at the earlier two films he did with Gopichand and compare them with 'Rama Banam', we can clearly see the difference. This film does not have strong content like 'Lakshyam' and doesn't entertain the audience like 'Loukeyam'. Bhupati Raja penned a story that was beaten to death over the last couple of decades and Sriwass presented it in the most routine manner. This film stands last among all the movies he did till date.
Verdict: 'Rama Banam' Misses The Target!
Rating: 2/5