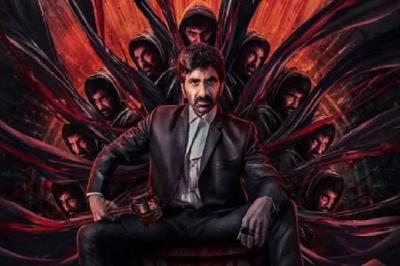 'Ravanasura' Movie Review
Cast: Ravi Teja, Sushanth, Faria Abdullah, Anu Emmanuel, Megha Akash, Jayaram, Rao Ramesh, Hyper Aadi, Harshavardhan and others.
Music: Harshavardhan Rameshwar – Bheems Ceciroleo
Cinematography: Vijay Karthik Kannan
Story – Dialogues: Srikanth Vissa
Producer: Abhishek Nama
Screenplay – Direction: Sudheer Varma
Mass Maharaj Ravi Teja is in a rich vein of form recently. His 'Dhamaka' became a blockbuster while 'Waltair Veerayya' in which he did a special role ended up as the Sankranti winner too. With two back-to-back hits, Mass Maharaja is in full flow and he is back to entertain the audience with a thriller movie titled 'Ravanasura'. 'Swamy Ra Ra' fame Sudheer Varma directed this film which raised a lot of expectations with its trailer and other promotional content. Let us dive into the review straightaway to find more about this movie.
Story:
Ravindar (Ravi Teja) is a junior lawyer who works with his Seetha Mahalakshmi (Faria Abdullah). She is his lover during their college days. A Pharma company owner's daughter (Megha Akash) comes to Ravindar asking him to help her dad (Sampath) in a murder case. While Ravindar is handling this case in court, Assistant Commissioner (Jayaram) is investigating it in the same time. ACP finds out that Ravindar is the one who did the murder and framed the Pharma company owner. He claims that Ravindar murdered some other people too. Why did Ravindar murder people? Did he murder them? How did he become free from all these cases? The answers to these questions form the crux of the story.
Analysis:
Director Sudheer Varma said at the very beginning of his career that he is heavily inspired by Quintin Tarantino, Ram Gopal Varma and many other filmmakers. He even said that he doesn't mind copying them if needed. He thrilled the audience with his 'Swamy Ra Ra' and shocked everyone with his talent. After such an impressive first film, he failed to live up to expectations. Despite his track record, Ravi Teja gave him a golden chance and Sudheer Varma decided to take logic completely out of the equation. Though the story looks like a perfect fit of Sudheer Varma, his narration is nothing similar to what we usually expect from him. His mark of brilliance is nowhere to be seen. Though he doesn't bore the audience, the happenings on the screen are beyond belief which makes it tough for the viewers to take 'Ravanasura' seriously. Trying to narrate a thriller movie in a mass format turned out to be the biggest minus for 'Ravanasura'.
As the secret which was kept under wraps by the 'Ravanasura' team will be out in no time, let us touch upon it without going into it deeply. The hero finds a talented prosthetic makeup artist and uses him to make masks just like his enemies and kills whoever he wants. People expect such things to be told in a very gripping fashion. They praise the director if it convinces them but the same audience will troll the director if something goes wrong. The core point of 'Ravanasura' belongs to the second category. The way the hero murders people and escapes look very easy. Despite accepting all the cinematic liberties, the way the director handled these things appear way too silly. How will the audience take this movie seriously if the most crucial point is narrated in a logicless manner?
Keeping the logic aside, one cannot say that 'Ravanasura' is a bad movie. The movie doesn't make you feel bored and engages you throughout its run time. Ravi Teja's character is etched quite interestingly. Till the last 30-40 minutes, people wonder why the hero's character is so cruel and they even think why he accepted such a role. Sudheer Varma tried to present him as a menacing villain as the title suggests. The movie appears quite ordinary at the beginning despite a few good punchlines between Ravi Teja and Hyper Aadi. The movie moves at a slow pace and it picks up speed only after the negative angle of the hero comes out. The pre-interval sequence is quite absorbing.
Despite the silly sequences, the twists keep you hooked. Mainly, the scene where the hero pulls an uno reverse card on the ACP who tries to frame him stands out as the highlight of the movie. It is quite common to give a sad back story to the hero in order to justify his actions. These parts require a bit of detailing. Sudeer Varma went completely over the top during the climax portions. While 'Ravanasura' engages you, one will get disappointed if you enter the theatre expecting a Sudheer Varma mark thriller.
Performances:
Ravi Teja did this character with a lot of ease. This character had different shades and Ravi Teja showcased all those variations quite effortlessly. The way he showcased the negative shades will definitely please his fans. While people get shocked to see him like that, he convinces the audience with his acting ability. There is no flaw in Mass Maharaj's performance but his looks are a bit odd at places.
There are no heroines in this movie. Anu Emmanuel did a very minor role and only Faria Abdullah got a decent role though she did not suit well beside Ravi Teja. Megha Akash's acting skills are quite poor while seasoned actor Jayaram excelled in the role given to him. Sampath is decent and Hyper Aadi delivered a few comic punchlines. Rao Ramesh's Telangana dialogues did not click at all. Sriram, Murali Sharma and others did their part convincingly. Sushanth was okay too. 
Technicians:
Music is the biggest minus of 'Ravanasura'. Not even one song from the film is memorable and even 'Veyyinnokka' remix song too did not work on the screen. The presentation and timing of the song was quite bad. The one song Bheems composed did not reach the expectations. Harshavardhan's background score is quite regular and one expects more pumping music for such a subject. Vijay Karthik Kannan's camerawork is quite good. The production values are amazing.
Srikanth Vissa's story is not bad but it is not great too. His dialogues worked out in parts. Sudheer Varma had more failures than hits in his career but he has a unique style. He made an engaging film compared to his last few outings but he did not leave his mark as a director. Sudheer himself announced that he is heavily inspired by Hollywood crime thrillers but he went a bit over the top for 'Ravanasura' and left the logic at many places. He scored average marks as a director in this film.
Verdict: Ravanasura - A 'Mass' Mask On A Thriller Story!
Rating: 2.25