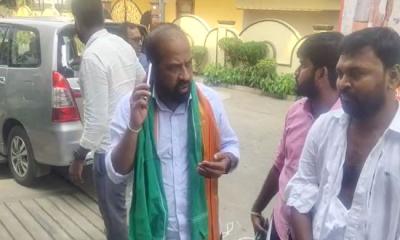 The protest started by the Amaravati farmers to have a sole capital city reached a new milestone as it completed 1200 days. Those who are supporting the yatra are standing in solidarity with the farmers and leaders. The Andhra Pradesh wing of BJP is also supporting the protest.
BJP National Secretary Satya Kumar came to extend his support for the farmers. However, his car was attacked by a few people and the cops arrested them. The BJP leaders and the attackers clashed, increasing the intensity in the region.
The attack increased the heat in state politics. The ruling YSRCP distanced itself from the attack and said that it has no role to play in this and it will get nothing with this. However, the opposition parties came together to support BJP.
Janasena which is BJP's ally, said that what happened was unfortunate. He asked if people will be attacked if they support Amaravati. He even said that the Central leadership of BJP should take a key call in this and call for a detailed investigation into the matter.
On the other hand, Telugu Desam Party chief Nara Chandrababu Naidu also condemned the incident and said that he was attacked by the YCP goons as he supported the Amaravati demand. He alleged that it appears as if it was pre-planned and asked what the Police department was doing when the attack was going on.
The support from the opposition parties came when several doubts were raised on the possible alliance between BJP-Jana Sena and TDP. We have to wait and see if this can make any change to the relations between them.