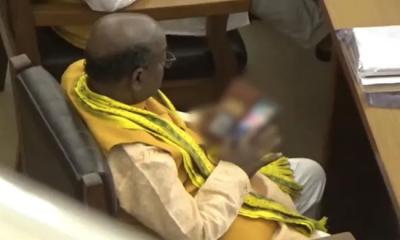 The Bharatiya Janata Party is in power at the Centre and in many states in the country. The party leaders and cadre talk about nationalism and paint themselves as ones who bat for the tradition. Whatever the decision the party takes, its supporters use the phrase Desam kosam Dharamam kosam. But the reality is something else.
Unfortunately, the legislators get caught watching adult videos in the house. A few incidents were reported in the recent past where the BJP leaders landed in a controversy. Another incident joined the row as a senior leader was caught watching adult videos when the sessions were underway.
Senior Bharatiya Janata Party Jadav Lal Nath from Tripura was spotted allegedly watching pron videos in the Assembly house when the sessions were underway. The Bagbassa MLA landed in an embarrassing incident as he was caught watching adult videos.
Now the MLA gave a response to the issue. Saying that it was deliberate, the MLA said that he did not know how the video played. The MLA went on to say that he received a call and after the call, the video got played. He added that he tried to stop the video but it took some time to stop the video.
It appears that the MLA is busy making damage control for the controversy that erupted in the Assembly House. The old video allegedly showed the MLA while going through the videos and suddenly the adult video played. This was captured and made its way to social media.
"I do not know how this happened. I was not watching porn videos. I suddenly received a call and the video started playing when I opened it to check. I tried to close the video but closing it takes time," the MLA said.
The Bharatiya Janata Party won the general elections in 2023. For the second consecutive term, the party won the polls. BJP-IPFT alliance won 32 seats and came to power. After coming to power in the Northeastern state earlier this month, the ruling party started the sessions in Assembly earlier last week. At the same, he watched the adult video allegedly.