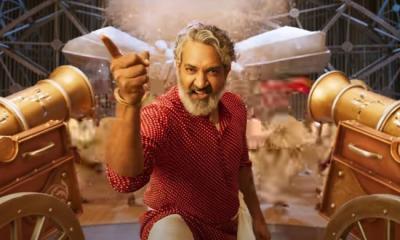 Maverick director SS Rajamouli is banking on the global success of RRR. The magnum opus won the Oscars for the Naatu Naatu song. He might be a Telugu director, but he took the west by storm and introduced them to his cinematic brilliance. We can understand his stature as Steven Spielberg was impressed with RRR.
SS Rajamouli's international fame made him enter the most powerful Indians list for the first time. Though his rank is not the best, he made a sensational debut on the elite list. SS Rajamouli who is called Jakkana by fans fondly was ranked 95th on the list. A few other Bollywood stars are also on the list.
Rajamouli is the one to start the Pan-India model with the Baahubali series. Several other films followed this path and a few directors also thanked him for starting a new path. With RRR his position reached a new level by reaching a global stage.
All these factors helped him to make a debut on the list. He might even better his rank by the time the next edition comes out. He is at the 95th position in the most powerful Indians 2023 list.
Well, a few Bollywood actors also made it to the list. King Khan Shah Rukh who scored a massive hit with Pathaan was ranked at the 50th position. After a long time, he scored a big and his comeback film set the box office on fire. Pathan beauty Deepika Padukone also made her debut this year. She was ranked 97. Bollywood legendary actor Amitabh Bachchan also made a debut this year. He was ranked 87.
Popular media outlet Indian Expressed prepared the most powerful Indians for this year. Looking at the top ten list, Indian Prime Minister Narendra Modi was ranked the top, followed by Union Home Minister Amit Shah, Minister of External Affairs of India, Jaishankar.
Chief Justice Of India D.Y.Chandrachud, Uttar Pradesh Chief Minister Yogi Adityanath, RSS Chief Mohan Bhagwat, BJP National Chief JP Nadda, Union Finance Minister Nirmala Sitharaman, Mukesh Ambani and National Security Advisor of India Ajit Doval are at the next respective places.