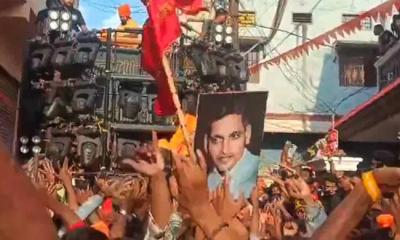 The pearl city of Hyderabad turned saffron the other day for the big occasion of Sri Rama Navami. The festival was celebrated by devotees. The Shobha Yatra at Hyderabad is a special attraction. The procession starts at the Seetarambagh temple and ends at the Hanuman Vyamshala grounds, Koti. The likes of Goshamahal MLA T. Raja Singh becomes the centre of attraction during the procession.
But a controversy hit the Sri Rama Navami Shobha Yatra in Hyderabad after Godse pictures were spotted. The pictures show youths holding portraits of Godse and dancing during the yatra.
Many wonder what made the youths hold the portraits of Godse during the Shobha Yatra which was supposed to celebrate the big festival. It is suspected that some leaders might have passed on the youths and they held them during the yatra.
Raja Singh is hitting the headlines of late with his controversial comments and multiple cases have been filed against him. Recently an FIR was filed by the Mumbai Police for the comments he made earlier. The Hyderabad Police gave special security for the procession. Despite this, Godse's pictures were held by youths.
Nathuram Godse, the killer of Mahatma Gandhi is a controversial figure in the country. In the last few years, a big criticism has been going on with the right-wing supporters trying to see him as a hero.
Nathuram Godse was born in Maharashtra during British rule. Despite killing Gandhi, a few in Maharashtra see him as a big leader like Veer Savarkar. The personalities who were earlier restricted to Maharashtra are seeing a rise in popularity in the other states as well. The grand old Congress party is strictly against Nathuram Godse as he killed Gandhi, who is referred to as the Father Of The Nation.
As the BJP is strong in a few places we see people taking the reference of Godse. Taking his reference in regular events is one thing. But during religious events and occasions celebrating festivals is one thing. The Right-wing people might like him. But that should not result in bringing him to religious celebrations by gathering people in big numbers.