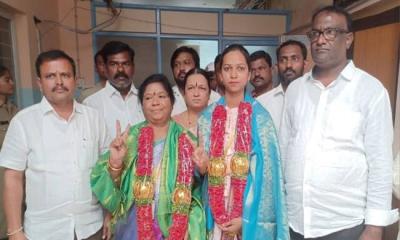 A young woman contested the Mayor polls and became the youngest Mayor in the state. The young lady comes from a political family and won the elections big good margin. The lady hails from the grand old Congress and after the win, congratulatory messages started popping up for her.
D Triveni, who is 23 years old won the Mayor elections in Ballari. She became the youngest mayor in the history of the state. She is a paramedical graduate. The win is a special one for her family as well as she is the daughter of former Mayor Savitha Bhaye. Triveni got 28 votes in the polls.
After winning the elections, she took charge as the Mayor of Ballari. There are 44 seats in the elections, including legislators. Despite this, Triveni won 28 seats while the BJP candidate managed to win 16 seats. Her mother served as the Mayor from 2019-20.
The newly elected Mayor entered politics at an early age. Earlier she served as the Corporator and now she became the Mayor of Ballari city. She entered politics at the early age of just 18. Three years later, she became the Corporator.
Cut to two years, she was elected as the Mayor. After the election results were announced, Triveni thanked every person who supported and voted for her in the elections. The election was a tough one. But that did not stop the young lady from reaching the Mayor's post.