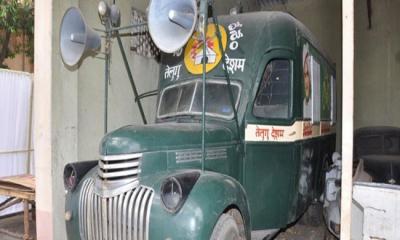 Nandamuri Taraka Rama Rao is a sensation in politics and films as well. After ruling the industry for a few decades, he ventured into politics and became the Chief Minister of the combined state. He took just nine months to reach the Chief Minister post. This is still a record as per the political observers.
He extensively toured the state in his special vehicle titled Chaitanya Ratham. The special vehicle helped the TDP founder to tour the state and reach out to people. Many say that without Chaitanya Ratham, TDP's rise might not be that easy. Chaitanya Ratham served as a Caravan for NTR. He used to address people by standing on top of the vehicle.
During the night time, NTR used to take a rest in it and special arrangements were made inside the vehicle to meet the needs. Chaitanya Ratham holds a special place in Andhra Pradesh politics and Telugu Desam Party.
Today marks the 41st Formation day of the party. The party leadership and leaders are celebrating the occasion in a big way in Hyderabad. Many places in the capital city are painted Yellow with flags and flexes. Party leaders are remembering the impact TDP left on politics.
The Nampally Exhibition Ground is the location where the celebrations are being held. Chaitanya Ratham is the center of attraction in the celebrations there. The vehicle with TDP flags was kept at the entrance of the grounds and the TDP cadre are loving it. They are showing interest in taking pictures.
నాంపల్లి ఎగ్జిబిషన్ గ్రౌండ్స్ లో జరుగుతున్న టీడీపీ 41వ ఆవిర్భావ దినోత్సవ సభా ప్రాంగణం లో ప్రత్యేక ఆకర్షణగా నిలిచిన స్వర్గీయ NTR ఉపయోగించిన చైతన్య రథం.#41stTDPFoundationDaypic.twitter.com/vBKyFeAEDk

— Telugu Desam Party (@JaiTDP) March 29, 2023