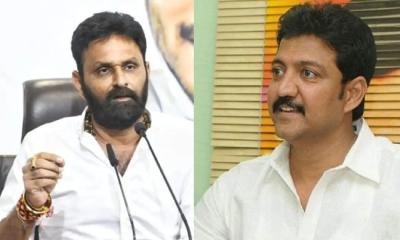 Do you remember Megastar Chiranjeevi's blockbuster movie Jagadeka Veerudu Athiloka Sundari? In the movie, the police take Brahmanandam to the station and beat him. When the cops give a break for his punishment, Brahmanandam asks the cops to beat him again as he is unable to digest the gap. This leaves the cops in splits. People laughed at the scene. The TDP supporters are in the same situation.
The Andhra Pradesh politics deteriorated after the Jagan government came to power. Kodali Nani is at the top place among the leaders who did this and Vallabhaneni Vamsi comes next in this. There is no need to say how angry the TDP supporters are at the two leaders for the objectionable language they use. They want to teach a strong lesson to the leaders after the party comes to power. However, the leaders are wondering why Kodali Nani and Vallabhaneni Vamsi became silent suddenly.
It became a big debate why Kodali Nani and Vallabhaneni Vamsi, who never miss an opportunity to target their opponents, are not speaking a word for the past three days. The two leaders lashed out at Telugu Desam Party chief Chandrababu Naidu and his son Nara Lokesh in an objectionable manner after the MLC election results were out. The TDP supporters wonder why the two YCP firebrand leaders became silent as if they have a lock.
A debate is going on that, due to the after-effect consequences of the recent MLC elections result, Kodali Nani and Vallabhaneni Vamsi might have turned silent and not spoken a word. The TDP supporters are saying that the two leaders spoke wherever they wanted in the past four years and if they became silent suddenly then things won't change. The TDP supporters are asking if the two leaders have left nothing to speak against the party and leaders which is interesting. It appears that the TDP cadre is more alert than the YSRCP cadre on what Kodali Nani and Vallabhaneni Vamsi would speak.