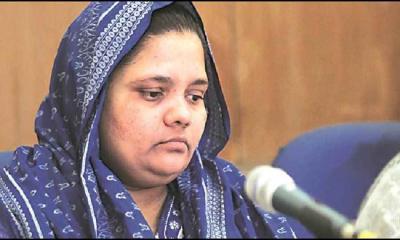 The 2002 riots episode is the ugly scar in the history of Gujarat. It's been over 20 years since it happened. But still, we are hearing about the riots. The BBC documentary brought up the old issue again and the situation reached a place where the documentary was banned. The opposition parties lashed out at the ruling party for banning the documentary.
The Bilkis Bano case is one of the horrific incidents during the Gujarat riots. The BJP which is accused of not taking the required measures during the riots faced a big blow with the case. The orders issued by the Supreme Court are a big blow to the Centre and Gujarat states.
Hearing a petition, the Supreme court served notice to the Centre and Gujarat governments against the Remission Of Gang-Rape Convicts. Having served the notice, the Supreme Court asked the governments to be ready with the documents on the remission of the convicts.
The victim in the case Bilkis Bano who has been fighting the remission of the convicted moved the Supreme Court and the Apex Court served notices to the two governments.
The Gujarat government released the convicts in the case last year. As they were released ahead of the elections, the release took a political turn. The victim was supported by a few politicians as many did not digit the fact that rapists were released.
11 people were convicted in the Bilkis Bano case for a lifetime. They were found guilty of gang-raping the victim and killing her family members including her daughter. After spending over 15 years they were released from jail.