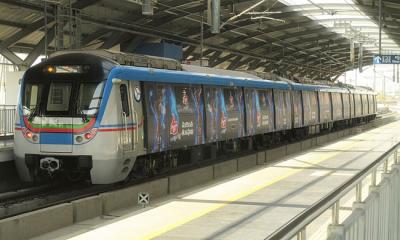 The BJP is in power at the Centre. It is also ruling the Southern state Karnataka. Moreover, the state is awaiting the general election and Karnataka will go to the polls in just six months. Modi visited the poll-bound state and announced a flood of funds for the Bengaluru Metro. With this, the Bengaluru Metro surpassed the Hyderabad Metro.
Earlier, the Hyderabad Metro used to be at the second spot after the Delhi Metro. However, the Hyderabad Metro could not withstand the competition due to a lack of support from the Union and State governments. Bengaluru reached the second spot.
Bengaluru's Namma Metro surpassed Hyderabad Metro as the second happening Metro from the 25th of March. It became the big Metro system. Not just that, the Bengaluru Metro became the second-longest Metro in the country by beating Hyderabad.
On March 25, Narendra Modi launched the White Fiel-KR Puram metro lane which is 13.71 kilometers long. With this, the Namma Metro Traffic Route distance was increased to 70 kilometers. Delhi Metro is in first place in India with a distance of 390 kilometers.
Hyderabad Metro which has a distance of 69.2 kilometers was dropped to the third position. It's been 12 years since the Metro came to the capital city. The Metro Rail started its operation in Bengaluru on August 20 2011 with Reach-1(M.G.Road-Baiyyappanahalli) at a distance of 6.7 kilometers.
The first phase of Hyd Metro was constructed by L&T in a PVP method. There are proposals of 62 kilometers for the second phase. The state government came forward for 31 kilometers from Rayadurgam to Shamshabad. However, the construction did not go further with a lack of funds. The state sought funds from the Centre for a 31-kilometer distance from BHEL to Lakdikapool Nagole and LB Nagar. However, the Centre did not grant the funds.
With this, the second phase of Metro stopped in Hyderabad. Though the DPR was prepared, the work did not go further with no funds from the Centre and the state having no funds.