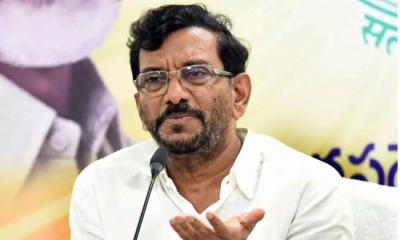 The opposition Telugu Desam Party's strength increased in Andhra Pradesh suddenly with the two MLC elections. After winning the three Graduates MLC polls, the grand old unexpectedly won the MLA quota MLC seat in one position. The party is in full josh with the election result and is aggressively going forward in drawing strategies.
On the other hand, there are reports that rebel leaders are trying to join the TDP. The recent MLC elections episode found four rebel leaders voted for TDP. Kotamreddy Sridhar Reddy and Anam Ramanarayana Reddy who turned rebels are among the four leaders.
The two rebel leaders hail from the Nellore region and there are reports that they might join the opposition party soon. Though the two leaders are saying that they did not get an invitation as of now, there is a strong buzz that they might take the TDP route.
YSRCP's Mekapati Chandra Sekhar Reddy is also a rebel leader and if he too joins then the Telugu Desam Party would see three leaders from the Nellore district. This would make the seating arrangement in the party interesting.
Now political experts say that former Minister Somireddy Chandramohan Reddy is at risk of losing the Minister berth if the party wins. He cannot get the Cabinet berth as the TDP has to allot one seat for BC, SC, and STs and one seat would be between Kotamreddy, Mekapati, and Anam.
Looking at these aspects, the chances of Somireddy Chandramohan Reddy getting a Cabinet Post are very less as per the experts. A talk of the same is going on already and people are talking about what would be the situation of him in the party next. He has been with the party through every thick and thin.
Somireddy's political career is controversy-free. He is known as a firebrand leader. He was made the Cabinet Minister in 2014. Despite losing the 2014 polls, Chandrababu Naidu made him the MLC and gave him a Cabinet post. But the current situation says that that would not happen as he could not get the cabinet post this time. Let us wait and see what happens here.