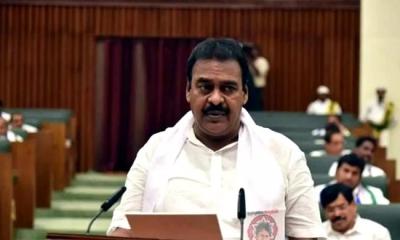 Razole MLA Rapaka Varaprasad has a long history in Andhra Pradesh politics. He won as MLA on the Janasena ticket and became the sole MLA of the party. However, he took the YCP side later saying that for the development of his constituency, he is supporting the ruling party.
All of a sudden he hit the headlines with the recent MLA quota MLC election by alleging that he was offered Rs 10 crores to cross-vote for the TDP candidate as it is against his values. The MLA's comments created a sensation in state politics.
Now the MLA created another row by saying that he won the Sarpanch elections in the past with fake votes. He even said that his followers would cast around 10 votes each and with this, he used to get a margin of 800 votes.
Mixing both issues, people are discussing the credibility and capability of Rapaka. Talking about the Rs 10 crores alleged offer from TDP, many wonder what is the need for the opposition party to go after him. Pawan Kalyan's image helped him to win the party and the Janasena cadre worked hard for this.
After he took the YCP side, the Janasena cadre distanced themselves from the MLA and even erected posters asking him to not attend the foundation day celebrations. This says that the cadre would not work for him in the next polls. So there is no assurance that he would win the polls.
People vote for legislators hoping that they would develop the constituency and make their lives better. But leaders like Rapaka raise questions on this. After winning on the Janasena ticket, he is supporting YSRCP. After saying that he was offered Rs 10 crores, the MLA is now saying that he won with fake votes.
Looking at his row, we get a question of whether we need such leaders in politics. Let us believe for a second that he took the YCP route for the betterment of his Razole constituency. But no one knows what development Razole went through in these years. Even the MLA might not say the development for which he is supporting the YSRCP. Rapaka is just an opportunist.
After winning the elections, Rapaka made many tall claims that he would not join the YSRCP as he would be the 152nd MLA of the ruling party and he wants to be the voice of Janasena in the Assembly. But he took the ruling party's side and is giving strange comments.