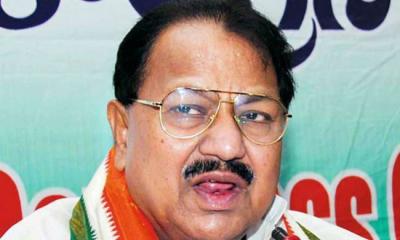 Old warhorse and former minister D Srinivas kept everyone guessing whether he would join the Congress Party and finally joined the party barely hours after he refuted the reports that he was joining the party. What more? He said he did not have to rejoin the party again as he has always been a Congress man.
DS, who was a two-time PCC chief and a several times-MLA, has been in and out of the TRS. His son and former Nizamabad mayor Dharmapuri Sanjay has already joined the Congress Party. Along with Sanjay, DS too came to the Gandhi Bhavan on Sunday and joined the party. He was warmly welcomed by several senior leaders of the party.
DS's other son - D Aravind - is a BJP MP.  He has won defeating KCR's daughter Kavitha Kalwakuntla in the 2019 elections. DS had played a key role in ensuring Aravind's  victory. At the same time, he is quite fond of Sanjay and wants to see him grow politically. How DS steers clear of this dichotomy remains to be seen.
Sources say that despite his frail health, D Srinivas is still a potent force in Nizamabad politics. There are questions about which son he would back. Will he back Sanjay or Aravind? There are no clear answers and DS himself is tightlipped about this His cryptic silence has now become the talk of the town.