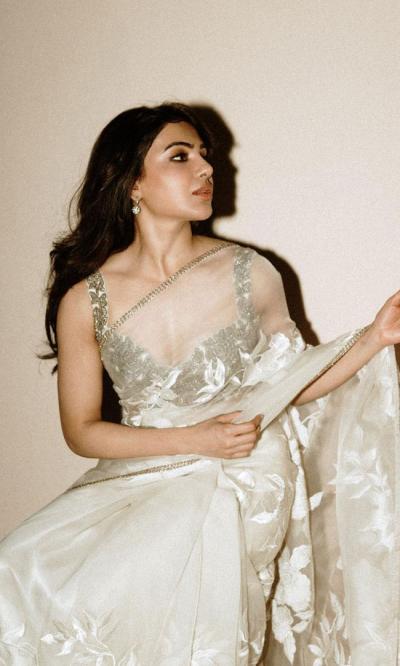 Star heroine Samantha Prabhu's health is fine now and she is back to shootings again. She is busy with the shooting of her Hindi web series as well as Vijay Deverakonda's 'Khushi'. With her first mythological drama 'Shaakunthalam' releasing on 14th April, the actress has kickstarted the promotions as well. After seeking divine blessings at Peddammathalli temple, she has started giving interviews as well.
As we know, Sam is quite active on social media and posts about the dresses she is going to ace during the promotion. In her recent post, the actress looked stunning in a transparent saree. She looked pretty graceful and made sure she acts some glamour touch to the promotions as well. Her fans are loving this look and these clicks are currently going viral.
During the promotions, she talked about her illness and claimed that she felt very week during the initial days. She was quite unhealthy during the time of 'Yashoda' shooting and took part in the promotions in that state. She stated that she had to take a lot of medicines to keep going as the movie's entire burden was on her shoulders. Her health is getting better now and Sam claims that it made her strong now.
Talking about 'Shaakunthalam', the 'Dookudu' actress said, "The offer came to me at a time when I had just completed shooting for The Family Man 2. I had just played Raji, a character so different from Shakuntala in so many ways. Shakuntala is a symbol of purity, innocence, grace and dignity. Raji, on the other hand, was all about being gritty and real. I wasn't sure if I could transform into Shakuntala at the point. Shakuntala faced so much hardship but she faced all of it with dignity and grace. When I learnt about it, I took up the offer to confront my fears. How I confronted my fear in the last three years describes my evolution as an actor."