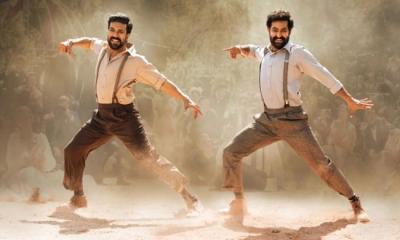 Exactly, a year ago, 'RRR' has hit the screens worldwide. This is Rajamouli's immediate movie after a massive success like 'Baahubali'. On top of that, Ram Charan and NTR played the lead roles which made it the biggest multi-starrer in Tollywood. The movie was made on a budget of 400 crores and there are even more attractions to this project. Despite the third wave of Corona, the movie arrived with a humongous buzz.
The talk from US premiers came out and people were in awe of the hero introduction scenes. Interval episode, Komuram Bheemudo song, Naatu Naatu song and the tremendous climax. Every episode was epic but many claimed that the movie was not at the level of 'Baahubali' when you compared the movie on the whole. Not just the US audience but the normal audience too started saying the same. A few websites even gave low ratings as well. 'RRR' did not get affected by this and went onto become a super success at the box office.
Due to the Corona fear and 'KGF 2' arriving within fifteen days, the movie did not get as much as 'Baahubali' but managed to get 1200 crores worldwide which is unachievable for a lot of big shot filmmakers. The theatrical run of this film was done and everyone thought the movie's chapter is close. But everything began once again went it came on OTT platforms. ZEE5 bought the rights for Southern languages while Netflix released the Hindi version.
A lot of international movie lovers watched it on Netflix and the rest is history. A lot of Hollywood celebrities and script writers were amazed by Rajamouli's magnum opus. Due to the huge demand for 'RRR' on OTT platforms, the movie was screened in theatres as well. Thus began the second innings of 'RRR' and it won numerous international awards in Hollywood including the Golden Globe and finally the Oscar for 'Naatu Naatu' song. Legends like Steven Spielberg and James Cameron praising the movie and appreciating Rajamouli's work is a proud moment for many Indians. No one including Rajamouli himself would have thought that they would achieve this level of global success with 'RRR' when it is being made.