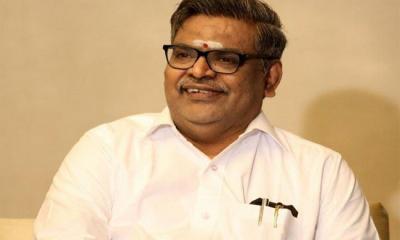 The Telugu Industry is blessed with many veteran lyric writers and the late Sirivennela Seetarama Sastry is among them. His long legacy in the industry is spread over a few decades and he has written songs for hundreds of films. The Indian government honoured the legendary writer with the Padma Shri award for his valuable contributions.
The Andhra Pradesh government had come up with a noble decision to honour the legendary lyric writer. Sirivennela's widow was handed over the documents. A land of about 500 square yards was allocated for the writer in a posh area of Vizag. The land that was allocated to him stands in a rich area that is close to the government buildings.
Sirivennela Seetarama Sastry was born and brought up in the Anakapalli region in Vizag. Now his family was handed over the land in Vizag. The lyric writer is apparently the first personality to get such a tribute.
The Lyric Writer passed away on 30 November 2021 due to health issues. He was diagnosed with Lung Cancer and admitted to a hospital. While undergoing treatment he passed away. The doctors gave him ECMO (extracorporeal membrane oxygenation) treatment. Sadly he could not make it.
Sirivennela was born on 20 May 1955 in Anakapalli in combined Andhra Pradesh. He was associated with Rashtriya Swayamsevak Sangh(RSS) and he openly flaunted his strong RSS background. When Jaya Prakash Narayana started Lok Satta Party, he supported him and campaigned for the party.
Sirivennela Seetharama Sastry started his career in the Telugu industry with the Sirivennela film. The songs became so popular that Chembolu Seetharama Sastry became Sirivennela Seetharama Sastry and remember him by the same name.
His career in the Tollywood industry lasted for three and a half decades. He had penned over 3000 songs in his career and won many awards.Besides Padma Shri, Sirivennela Seetharama Sastry won a few National awards and Nandi Awards. The Lyric writer worked with veteran directors like K. Viswanath and new directors who entered the industry in the 90s and 2000s. Sirivennela wrote a few memorable songs for SV Krishna Reddy in his Subhalagnam and Yamaleela.