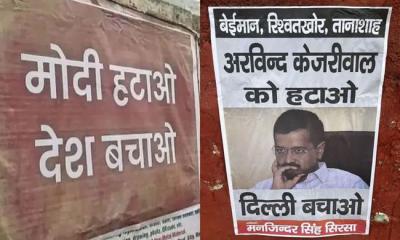 The Bharatiya Janata Party is having issues and political fights with a few parties in many states. BJP and Aam Aadmi Party are big rivals in the national capital Delhi. Delhi-based AAP even contested the Gujarat polls. The party is now enjoying its presence in three states. The much-talked-about Delhi liquor scam added fuel to the fight between the two parties.
Both parties are aggressively targeting each other on every possible issue. The fight emerged into a poster fight between AAP and BJP. Targeting the BJP and Prime Minister Narendra Modi over the Gautam Adani issue, AAP is said to have erected posters saying that Modi should be brought down from power to save the country.
'Modi hatao desh bachao', reads the posters targeting Prime Minister Narendra Modi. To hit back, the Bharatiya Janata Party set up posters saying that Chief Minister Arvind Kejriwal should be defeated to save Delhi.
The posters targeting the ruling party at the Centre, BJP, and the ruling party in the national capital Delhi, AAP are catching everyone's attention. AAP is lashing out at the BJP and asking why the party is scared of answering on the Adani issue and escaping.
The poster fight in the national capital Delhi reached a situation where FIRs were filed with the Police. An investigation is underway to know who is behind the posters. Even before the police find the accused, both parties are targeting each other.