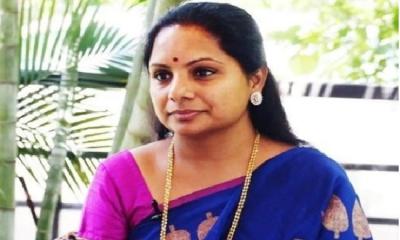 Former MP Kalvakuntla Kavitha is one of the accused in the Delhi liquor case. She is being questioned by the central agency in the case. While the opposition parties in the state are attacking her and the BRS saying that she has a role in the alleged scam, the ruling party leaders are saying that she is framed on purpose.
She is waging a legal battle to get directives from the court that a woman cannot be questioned in the office and the officers should come to her residence. However, she was grilled in the case twice. Now the recent development hints that the agency might question her again before the court hears the petition.
It is known that the BRS MLC earlier filed a petition in the Supreme Court to direct the ED to question her at her residence. The Apex Court said that the petition would be heard on the 24th of this month. Now the petition was posted on the 27th of this month.
As per the media reports, the Supreme Court bench posted the hearing of the petition to the 27th, which is four days from now. With the Supreme Court not looking into the case the ED might grill her again in the case as per the political observers.
 A few days back the ED questioned Kavitha. Kavitha's lawyers said that they will take the next step after the Court gives its verdict. After Kavitha missed a questioning session, the ED sent a notice saying that she should face the questions without fail.
 So she appeared before the ED office for two consecutive days.
Looking at all these developments, the political observers say that the ED officers might question her again by the time the Supreme Court hears her petition. So all eyes are on the case to see what happens next.