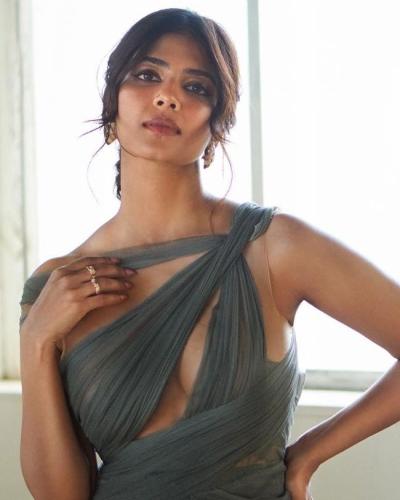 The Internet is filled with fake news and people are struggling to find the difference between what's real and what's not. When it comes to news about politics and movies, the fake news is becoming viral instantly and the celebrities themselves are being forced to come out and reveal the truth. Recently, Malayali beauty Malavika Mohanan did the same.
A popular website posted on social media that happening beauty Sreeleela and Malavika Mohanan are selected as the heroines for 'Ustaad Bhagat Singh' starring Pawan Kalyan in the title role. Harish Shankar is directing this movie and the website even claimed that the 'Master' actress as the second heroine in this movie. This news spread like wildfire and before people start believing it, the actress herself retweeted and clarified that she is not a part of 'Ustaad Bhagat Singh'.
She wrote, "Have so much admiration for Pawan Kalyan sir, but have to clarify I'm not a part of this project :) I'm currently working on a amazing telugu film(as the main lead not the second) which will be my debut in telugu cinema, an industry I'm excited to dive into." What's more interesting is that Malavika announced that she is currently acting in a Telugu movie and claimed that she is the first heroine but not the second.
As we know, her name is being linked with Prabhas' horror thriller 'Raja Deluxe' which is being directed by Maruthi. There were speculations about taking more than two heroines in this movie but we need to see which film Malavika Mohanan is referring to.
Malavika was last seen in an interesting love story named 'Christy'. It got a mixed response and she played the role of a teacher who develops romantic feelings over her student. She played a small role in Rajnikanth's 'Petta' and was the heroine in Vijay's 'Master' and Dhanush's 'Maaran'. She is yet to make her Tollywood debut but she has a lot of fans in Telugu states because of her astonishing glamour.
Have so much admiration for Pawan Kalyan sir, but have to clarify I'm not a part of this project :) I'm currently working on a amazing telugu film(as the main lead not the second 😊) which will be my debut in telugu cinema, an industry I'm excited to dive into♥️ https://t.co/h9dURjQ5z9

— Malavika Mohanan (@MalavikaM_) March 21, 2023