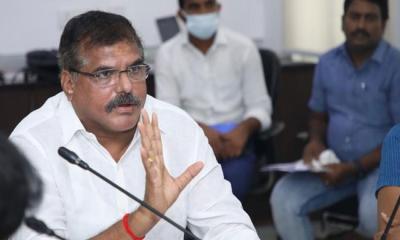 The Andhra Pradesh government is facing severe criticism from government employees and teachers for not addressing their demands. It's been four years since the party came to power. The party made many promises including scrapping the CPS. The employees and teachers earlier staged a protest for their demands.
A Cabinet Minister faced a flood of questions on the District Selection Committee held by YCP since 2019 and the employees hired under the notification and if the government had any proposal to announce any new DSC. The answers the Cabinet Minister gave did not go well with an MLC.
Going into details, Progressive Democratic Front (PDF) Teachers MLC Vitapu Balasubrahmanyam raised the topic of DSC notifications in the Andhra Pradesh Legislative Council. He asked how many vacancies were filled as of now and if the government has any proposals.
Education Minister Botsa Satyanarayana did not give a pinpoint response to the question and said 14219 vacancies were filled in 2019 and those who cleared the DSC in 1998 were also given postings and no new vacancies came as the retirement age was increased.
But the MLC was not happy with the response of the Education Minister and asked what question he asked and what response the Minister said. He said that he asked one thing and the Minister answered another thing and he cannot even give two marks for this.
As Vitapu Balasubrahmanyam was a teacher, he saw the issue from a marks point of view and said that he cannot give two marks for Botsa out of ten marks. Having said that, he maintained that if he shares the Minister's response even the teachers will be surprised thinking if they should teach the students the same.
The Prakasam-Nellore-Chittoor Teachers MLC also blasted the Minister and said that no new DSC was announced in the state after 2019 and the primary education minister was impacted by the education system brought by the government. He also said that the government is cutting short the sanction posts and on top of this, the government is saying there are no vacant posts in the state.