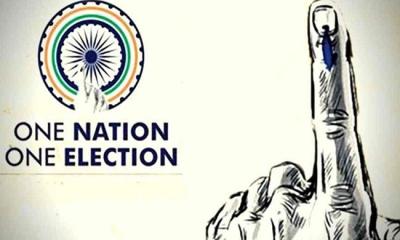 For a very long time, we are hearing about Jamili elections going for simultaneous elections. The debate got momentum after the Bharatiya Janata Party came to power. The party leaders are hinting about that at regular intervals. Yet again, the Union government made some interesting comments on the Jamili elections.
In the Lower House of Parliament, Lok Sabha, the Union government talked about the Jamili elections and said that it is in favor of going for the simultaneous elections. Union Minister of Law and Justice Kiren Rijiju said this in the house in his written reply.
Giving the positive aspects of Jamili polls, the Union Minister said that the polls would reduce the cost and also be easy to hold. However, he also said that there are a few aspects that need to be addressed like amending the Constitution and bringing all the political outfits under one roof for the elections.
Political experts say that the Bharatiya Janata Party is pushing for the Jamili polls as they will benefit it. Rather than focusing on various elections at different times, the saffron party can focus on polls at a time. The BJP follows the same rule of making the popular leaders campiagn for the polls.
No matter where the elections are held. Be it Lok Sabha polls or by-elections or Greater Hyderabad Municipal Corporation(GHMC) elections, the Bharatiya Janata Party follows the idea. We have seen how big leaders like Prime Minister Narendra Modi, Union Home Minister Amit Shah, Uttar Pradesh Chief Minister Yogi Adityanath, and others came to Hyderabad.
If the Jamili elections are held then the BJP leaders would focus on polls and the leaders irrespective of their place would give their best. This would be an issue for other parties which want to spread their wings in other states. If we take the example of AAP and BRS, they first focus on their states and later on others. The same is not the case with BJP. They have leaders in many states.
On the other hand, there is also an opinion that the Jamili elections would make it tough for BJP for the campaign as the party and leaders cannot focus on any region completely. We would get clarity on this if Jamili elections are held.