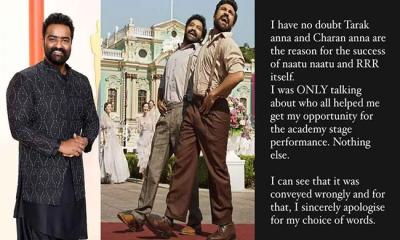 Young and talented singer Kaala Bhairavaa who happens to be MM Keeravani's elder son is enjoying life to its fullest in the last couple of days. 'Naatu Naatu' song which he and Rahul Sipligunj sang won the Academy award and he got to perform it live onstage at the Oscars. He even met his favourite singer Rihanna at the event and he is overwhelmed with the standing ovation 'Naatu Naatu' performance got.
Expressing his happiness, he posted some heartfelt messages on his social media handles thanking the people who made it all possible. He said, "I want to share something with you all. I feel extremely grateful for having had the invaluable opportunity of representing team 'RRR' and performing at the Oscars for the best original song category. On that note, I want to share with you all that it's only because of a few people who directly or indirectly, but 'completely' are the reason for me getting this priceless opportunity which I personally feel is far beyond how much I actually deserve! Rajamouli baba, Naanna, Prem Rakshith master, SS Karthikeya anna, Amma and Peddamma. It's because of their hardwork and workmanship that the song has reach all parts of the world today and is making people dance globally and that's how I got this chance eventually to perform at the event." He even thanked the Dylan, Josh and other people who helped in the film's glorious run in USA. He went onto share the pictures of Rajamouli, Keeravani, Prem Rakshith master and others.
This did not go down with NTR and Charan fans as they feel that he did not thank the two heroes who danced their socks off in the movie and made this famous across the globe. He got criticized on social media heavily and Kaala Bhairava quickly realized his mistake and wrote, "I have no doubt Tarak anna and Charan anna are the reason for success of Naatu Naatu and RRR itself. I was ONLY talking about who all helped me get my opportunity for the academy stage performance. Nothing else. I can see that it was conveyed wrongly and for that, I sincerely apologise for my choice of words."