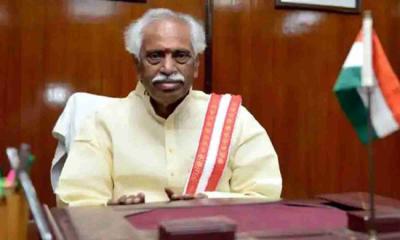 Telangana Governor Tamilisai is very adamant that things should go as per her wish and that the budget should be introduced without her consent. The Telangana government gave a big shock to her by moving the High Court. Amid the ongoing controversies, Haryana's Governor Bandaru Dattatreya's comments became viral.
Urging everyone to not drag Governors into controversies.. Saying it a Constitutional post, he advised that if the leaders have any other issues then they can go for the amendments in Parliament rather than disrespecting the Governors. He spoke to the media on Monday.
When asked about the Governors controversies, Bandaru Dattatreya rubbished them and alleged that they are being created wantedly. He said that Governors have no power to look into the matters of governance and they cannot do much in budget matters.
Talking about the incident where government employees gave a request to the Governor complaining about the delay in the clearance of salaries, Dattatreya said the Governor cannot do anything more than sending the request received from the employees. He advised that Chief Ministers of both states and higher officials should sit together and sort out the issues.
On the same occasion, he spoke about the recent education policy and hailed it saying that it will create employment largely. Scientific approaches and moral values are required for education. Technology is developing… and the importance for innovation researchers is increasing, Bandaru Dattatreya added.