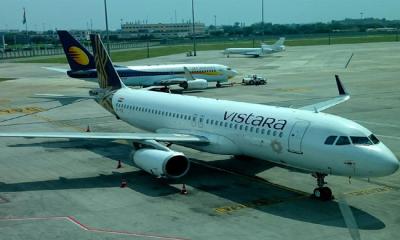 High-Class people and people who pursued higher studies take air travel mostly. But some of them behave in an objectionable manner cheaply. If we look at the shocking stories air passengers are doing of late, people express their shock thinking about why they are behaving like this.
A recent incident of a passenger beating his fellow passenger for a seat in mid-travel became viral. The efforts made by the aircrew and other passengers to stop the fight went in vain. The issue went to the notice of the Police Station at last. The incident of a person urinating on a female passenger put society to shame.
Air India failed to compromise both sides in the issue and that went to the notice of the Police station and court as well. For showing negligence, the DGCA slapped a big fine of Rs 30 lakhs on Air India. The pilot was also suspended. After the incident, Air India restricted the amount of liquor the passengers were given.
Now a similar incident happened on a Vistara flight. A 45-year-old woman Passenger who is identified as an Italian national created a ruckus on a flight that was coming to Mumbai from Abu Dhabi. Paola Perruccio, who had an economy class ticket tried to sit in the business class but could not. So she surprised many with her abnormal behavior.
She created a ruckus by becoming partially nude. The cabin crew could not control her. It is also said that she even assaulted the cabin crew. With this, the cabin crew complained to the Police after landing in Mumbai.
Mumbai Police registered a case in this regard and arrested the Italian woman. The Cabin crew said that they tried to bring the situation under control thinking about the safety of other passengers. Vistara Airlines said that as per the guidelines she was arrested.