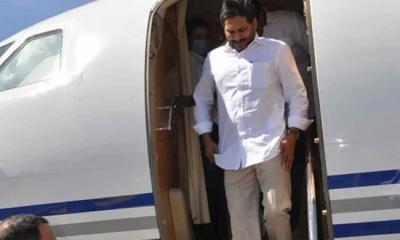 Tension gripped the Gannavaram region after the flight carrying Andhra Pradesh Chief Minister YS Jagan Mohan Reddy made an emergency landing. Shortly after taking off the flight had to make an emergency landing at the airport as per the media reports.
The Chief Minister was in the Vinukonda region earlier today to release the third tranche of Jagananna Chedodu. He addressed the gathering and breathed fire on the opposition parties for their actions. He gave an aggressive speech at the event.
Jagan was on his way to the national capital Delhi to attend the global investors meet to attract investments for the day. His Delhi visit will last for two days. However, the flight sustained an issue and had to make an emergency landing at the Gannavaram airport.
The authorities suffered a tense situation with the emergency landing. Experts have been looking into the matter to know the exact reason behind this. We might hear a big announcement from the airport authorities at the earliest.
YSRCP leaders and activists are shocked to hear reports about Jagan's flight making an emergency landing. They had a big relief after Jagan made a safe landing and walked out of the flight safely without any issues.