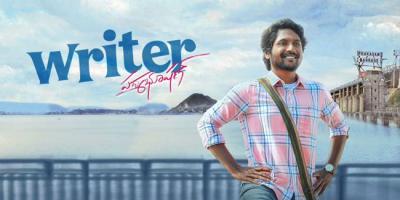 Many makers opt for early screenings and premiers when they are highly confident about the movie. The team of 'Writer Padmabhushan' starring Suhas in the lead are so sure about their content because the early screenings held in 6 different cities that too on different dates.
Starting in Vijayawada from today, the screenings are being done in Bhimavaram, Kakinada, Vizag, Guntur and Hyderabad. This brave and bold decision from the team is turning out to be a smart move as the movie is getting a lot of positive reception from the premiere shows.
The screenings started from Vijayawada's Raj Yuvaraj theatre. This was a very special moment for Suhas and director Shankmukh Prasanth as 'Writer Padmabhushan' is their first theatrical release. As the positive responses keep on growing, the confidence of the team is getting multiplied by 10 times.
Many people who watch the premieres are saying that 'Writer Padmabhushan' is a must-watch for families and this hilarious entertainer will be making you quite emotional at the end. The best comment they heard is, "There is an emotional connection in every movie, but Writer Padmabhushan connects directly to our heart."
Produced by Chai Bisket Films, in association with Lahari Films, Anurag Reddy, Sharath Chandra, and Chandru Manohar, Monoharan is the presenter. Sekhar Chandra and Kalyan Nayak are the music composers while Venkat Shakamuri is the cinematographer. Kodati Pavan Kalyan and Siddhartha Thatholu. Yellayya is the art director while Bhaskarabhatla is the lyricist.
Ashish Vidyarthi and Rohini will be seen as the parents of Suhas in the movie and Tina Shilparaj is the heroine. Geetha Film Distribution of Allu Aravind who released 'Kantara' will be releasing this film too. The movie is coming out on February 3rd.